Mutual trust is important for us and for partnership!
10+ Best Native Advertising Platforms - AdsJumbo Native Advertising, Monetize Apps, Websites
Facebook and Google are great (and expensive) networks to advertise on and drive targeted traffic. But how long are we going to ignore other effective advertising options?
Display ads have been on the stage for more than 20 years, so it's time for them to scoot over a bit.
While all your competitors flooded Google and Facebook, content with low customer lifetime value (CLV), native ads offer a great way to expand your reach while targeting your desired audience.
Native advertising became an integral part of almost any successful marketing strategy. The best thing about native ads is that they fit into website or blog content so seamlessly, that you can hardly say these are ads. And most importantly, with this advertising option, you'll cost-effectively reach potential customers that neither you nor your competitors are currently converting.
If you are new to the world of native advertising or are looking into using a different native ad network, this list of native ad networks will come in handy.
Top native ad networks
Disclosure: This post may contain affiliate links. This means we may earn a commission if you buy something through our links at no additional cost to you.
Reach: Taboola reaches over 1.4 billion unique users every month.
Traffic: 50% of their traffic is from Tier 1 countries such as the US, UK, Japan, and France.
Pricing: For a self-service option, users can start at $10 per day.
Taboola ad specs: find them here.
Taboola is the world-famous content discovery and native advertising platform that helps marketers to reach highly relevant audiences and grow their traffic in a scalable way.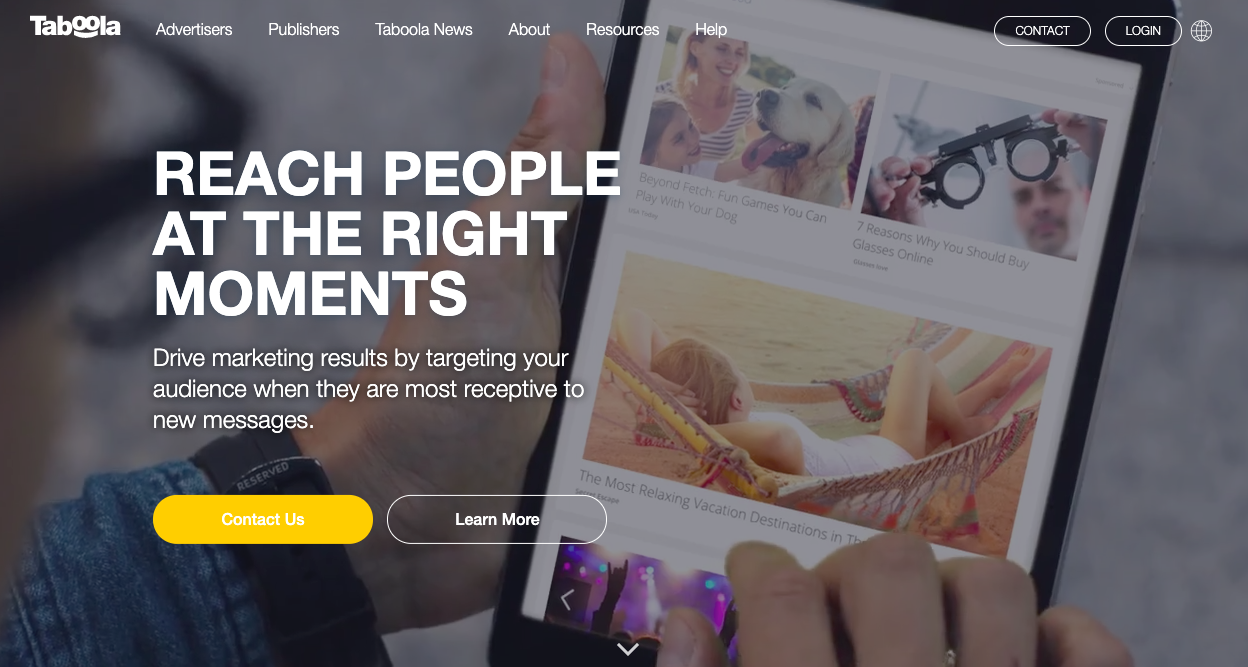 They recommend content across the world's most top websites, such as NBC News, Daily Mail, The Weather Channel, EuroSport, Yahoo! Japan, and etc. Taboola's personalized content recommendations can be found within a customizable widget on the bottom, top or side of blog posts or within the feed.
With Taboola, you can target your audience by:
Location
Device
Operating system
Connection type
The platform also lets you fully control your campaigns – from setting your own goals to editing your campaign daily ad delivery when the campaign is live.
Taboola can be the right choice for those who want to get comprehensive reports on their campaigns' efficiency and learn where they can improve their strategies.
Example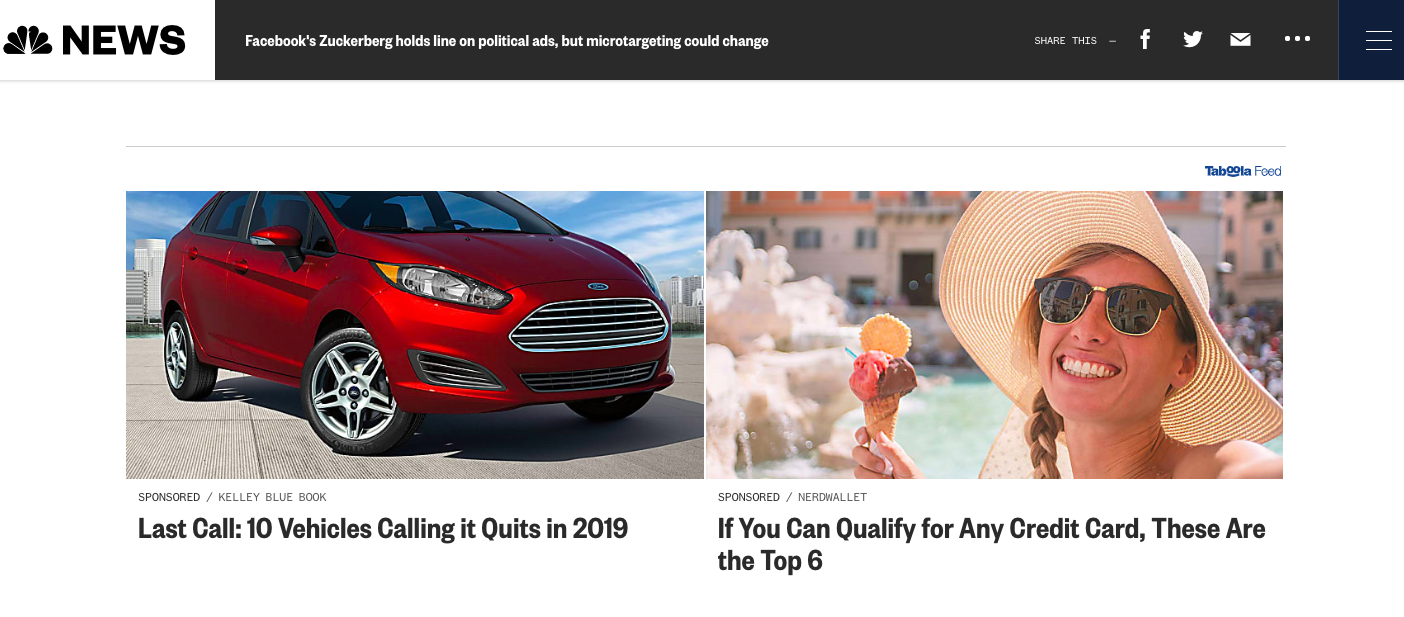 Reach: Outbrain reaches over 1.2 billion users monthly.
Outbrain ad specs: find them here.
Traffic: 50% of their traffic is from Tier 1 countries such as the US, UK, Japan, and France.
Pricing: From $10 per day.
Another extremely popular native advertising platform is Outbrain. Exclusive tools, quality publisher network, regular updates, and great support distinguish Outbrain from many other platforms.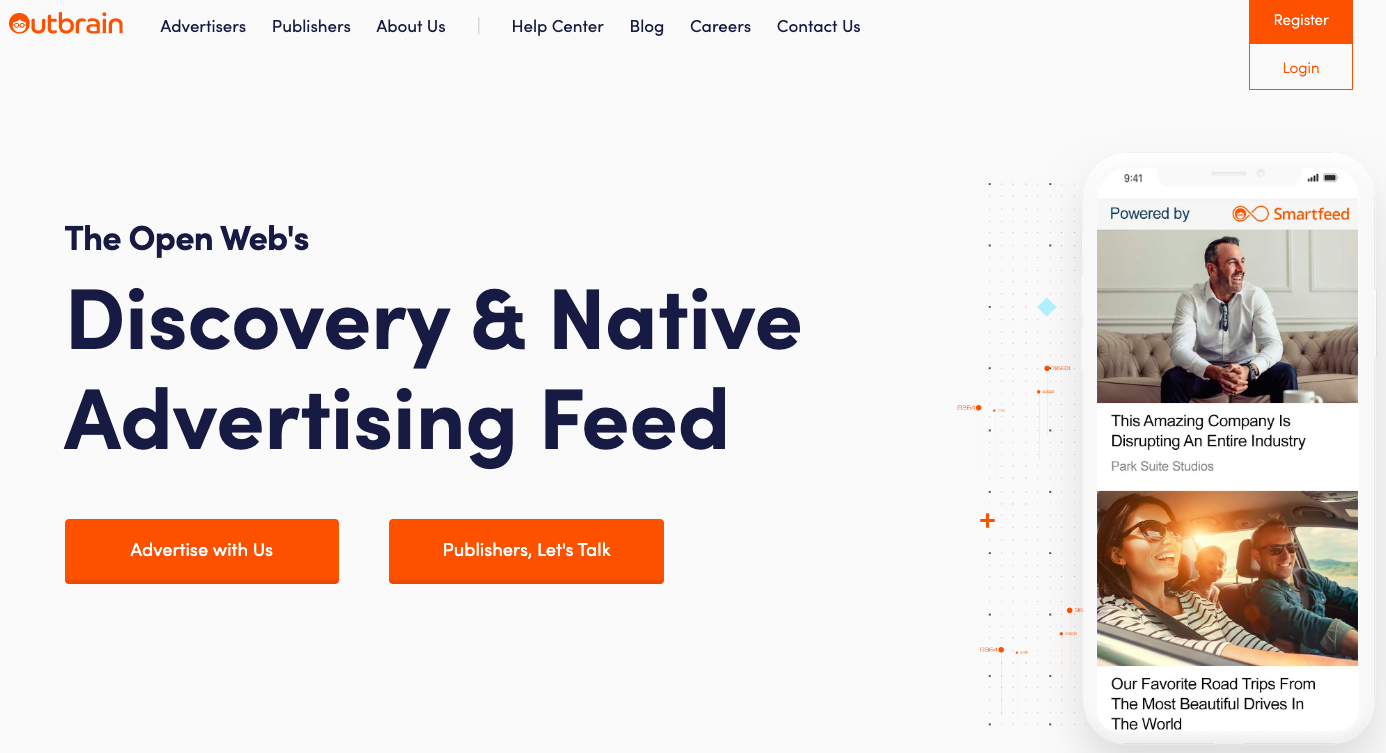 Their recommended content appears across absolute top-quality placements, including CNN, Fox News, Daily Telegraph, The Guardian, Mashable, and even more.
Check out the Outbrain review to learn more about the platform.
CAUTION: Outbrain provides incredibly strict approval terms for advertisers (as well as for publishers). Your ad should be of high quality and well-crafted to meet all the standards and get approved.
Example

The next native ad platform that's absolutely worth your attention is MGID.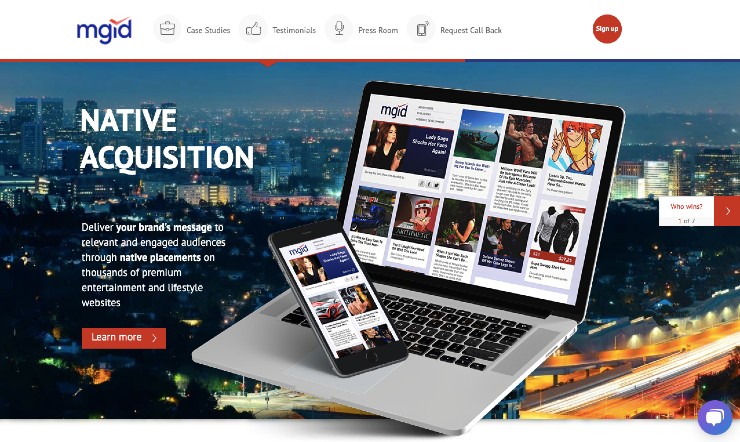 Reach: Over 850 million unique visitors per month.
Traffic: Europe, the USA, Asia-Pacific, etc.
Price: The minimum sum required to start advertising on MGID is $100. The minimum bid for tier 1 countries is $0.015 per click.
The company partners with 31650+ publishers all over the world, allowing advertisers to drive high volumes of diverse traffic. MGID ads are served to audiences in Europe, the USA, Asia-Pacififc, Canada, and other countries.
On MGID, you can target audiences based on:
Geo
Browser
Browser language
Targeting OS
Mobile connection
Dynamic retargeting is also available on the platform. Although there's no such option as interest-based targeting, MGID ensures your ads are displayed to the most relevant audiences by requiring advertisers to select the category of every offering you promote.
Check out the MGID review to learn more about the platform or sign up for the platform today.
Pricing: To start, you'll need to add a minimum of $25 to your Yahoo advertiser account.
Verizon media ad specs: find them here.
Traffic: More than 50% of traffic comes from the US, UK, and France.
Reach: Yahoo has more than 500 monthly users.
Verizon Media, widely known as Yahoo Gemini or Oath Native, is the only platform that offers search and native advertising in one place.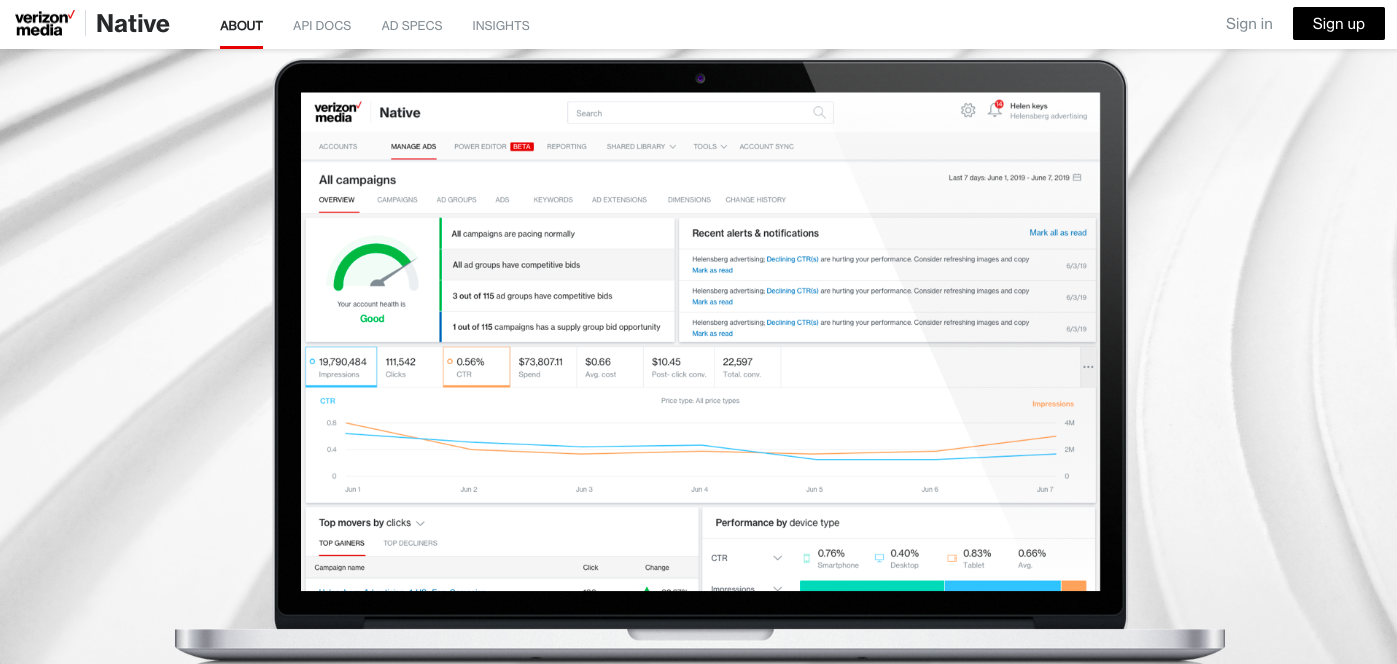 Content posted through Yahoo Gemini flows through Yahoo's home page and other Yahoo's publications, including Yahoo Finance, Yahoo Entertainment, Yahoo Groups, Yahoo News, Yahoo Lifestyles, and others.
The platform supports multiple ad features:
Video
Carousel
Real-Time Feed
Tiles
Dynamic Creative, and more
Example

Reach: Plista network comprises over 1,500 websites.
Plista ad specs: find them here.
Traffic: 80% of traffic is from Germany, Russia, Poland, and Australia.
Pricing: CPC based.
Plista is a global native advertising network that has built up an exclusive inventory of premium editorial environments.
Plista supports three effective native ad formats:
Native Recommendation Ads – ad appears as a text or image recommendation within the website content. It fits seamlessly within the surrounding environment and is highly relevant to the content presented on the page.
Native Content Distribution – branded content such as a blog article or a social media post is placed directly among editorial content on premium websites reaching even more people in your target groups.
Native Outstream Ads – for maximum attention, videos expand between the paragraphs of an article when users scroll down.

35+ Amazing Native Ad Examples
Download our free native ad lookbook and see how effective campaigns are built.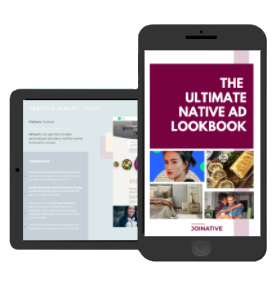 The next native advertising platform that could be a good fit for a small business is AdUp.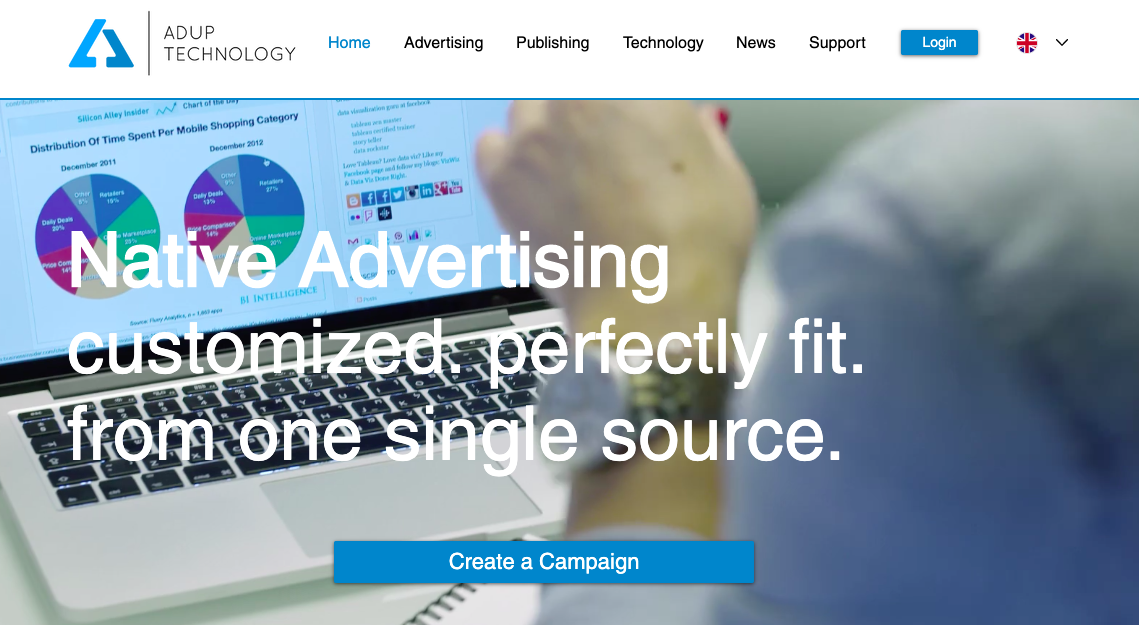 NOTICE: AdUp successfully works with German-speaking publishers (90% of their traffic comes from Germany), and therefore, could be a good decision for companies that target German-speaking audiences.
Although AdUp primarily specializes in the travel sector, the company also partners with popular German publishers from various fields, including wetter.com, Spiegel Online, sport1, and more. Moreover, AdUp is created by Axel Springer, a large German media house, that gives priority access to their high profile inventory.
The platform offers the following targeting options:
Geo-targeting
Keyword targeting
Retargeting
AdUp ad specs: find them here.
Example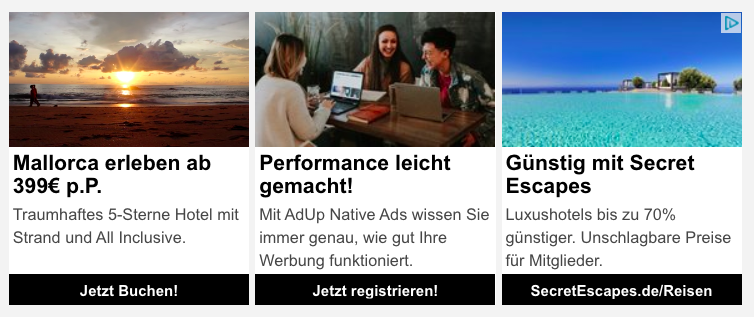 Reach: over 185 business news readers per month.
Dianomi is an exclusive advertising platform that focuses on advertisers offering finance and business related products and services. Dianomi's native ads are displayed solely within finance publications or dedicated finance sections on multi-topic websites.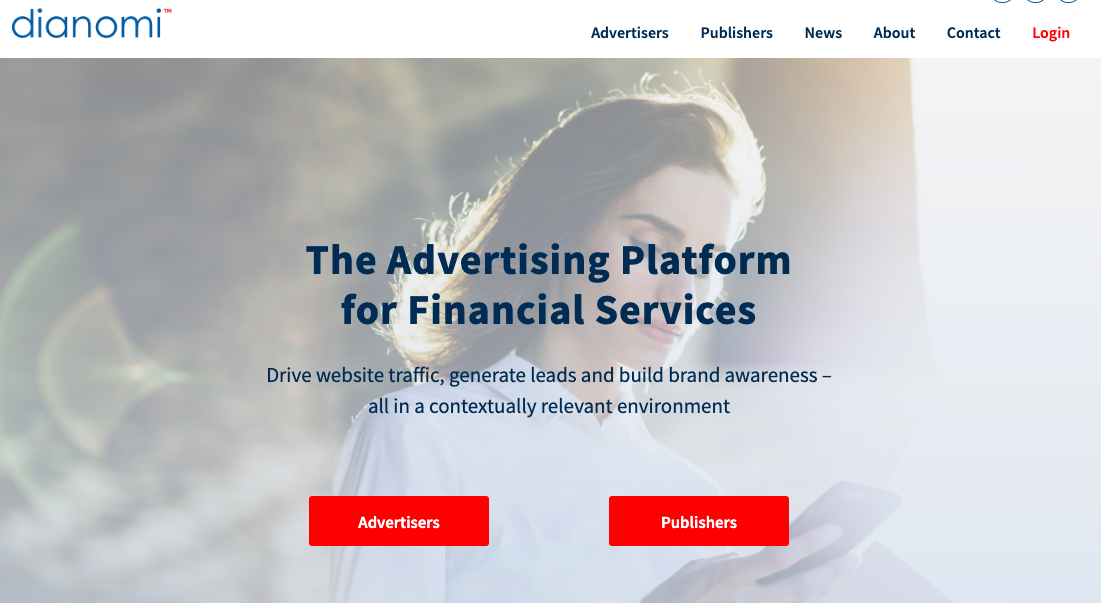 Dianomi works with more than 350 premium business and financial publishers, such as The Telegraph, MarketWatch, Business Insider, Inc., etc.
With Dianomi, you can promote:
Sponsored articles
Videos
Infographics
Whitepapers
Newsletters, and more
To help advertisers better understand their target audience, Diamo Insights data provides insights on your site's visitors' behavior, job functions, and topics of interest. You'll also see which ads your customers engage with the most and how you perform compared to your competitors.
If you want to promote finance or b2b related content, you should definitely look into Dianomi.
Example

This one is often called the top growing native advertising platform. They provide strict requirements for both publishers and advertisers. Due to their high-quality standards, the vast majority of traffic generated from Revcontent native ads comes from Tier 1 countries such as the USA and UK.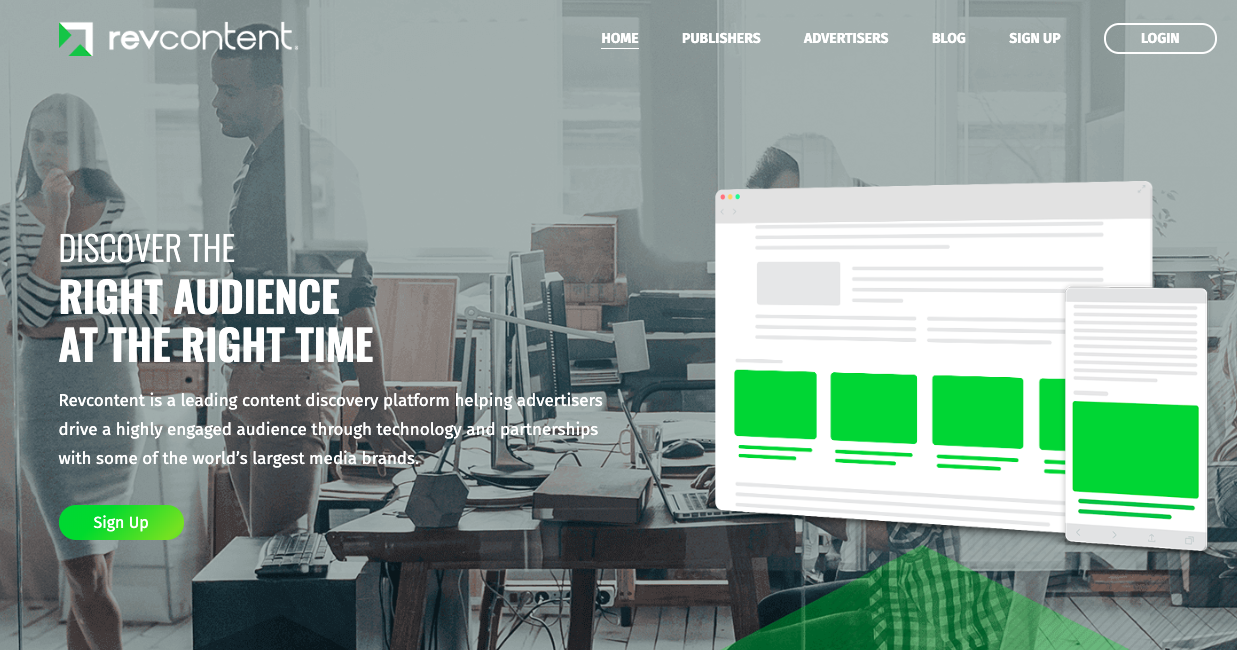 Pricing: Based on your CPC bid. The cost per click also varies depending on geographic location.
Revcontent ad specs: find them here
Traffic: 50% of visits come from the USA and UK.
Revcontent partners with websites that generate a minimum of 50,000 monthly visits, and among their publishers there are Forbes, Nasdaq, Wayfair, and others.
Here are some of the targeting options available:
Geo-targeting
Device & OS targeting
Retargeting
Brand targeting
Topic targeting
For more insights, heck out our guide to Revcontent best practices.
TripleLift is a leading programmatic native advertising company that combines in-feed native ads and seamless automation to make native advertising scalable.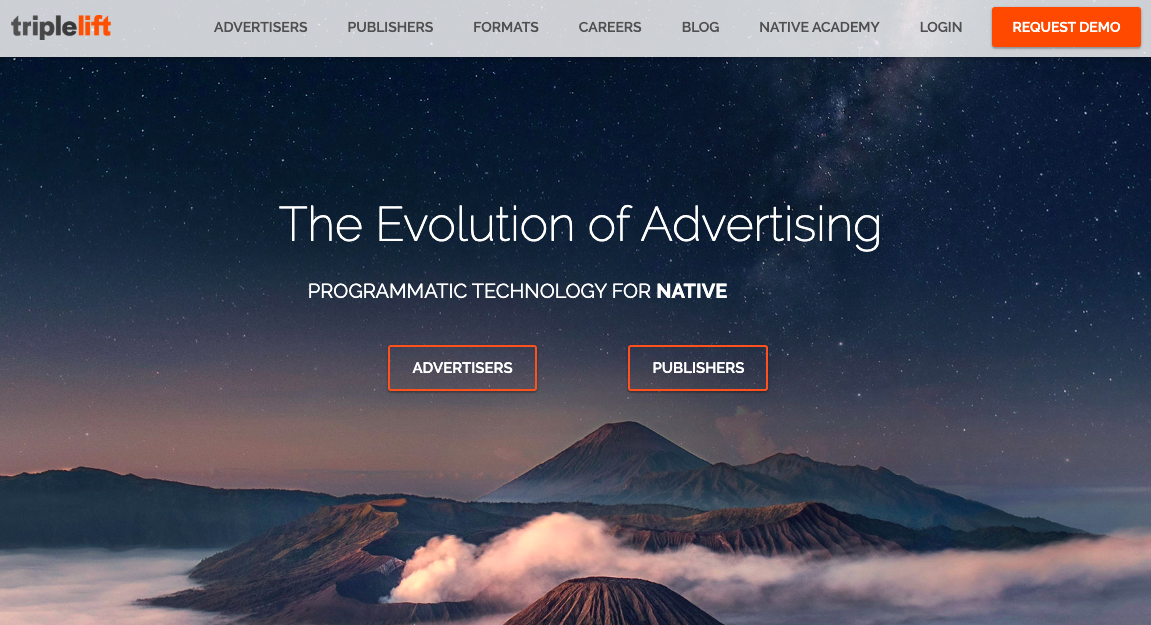 As you could have already realized from its name, the platform promises the ads will drive you 3x higher brand awareness and purchase intent.
TripleLift allows advertisers to showcase their content using the following formats:
Branded Video
Cinemagraph
Image
Carousel
Scroll
Window
TONIC. is a traffic marketplace for advertisers and publishers that averages more than 2 billion unique visits a month.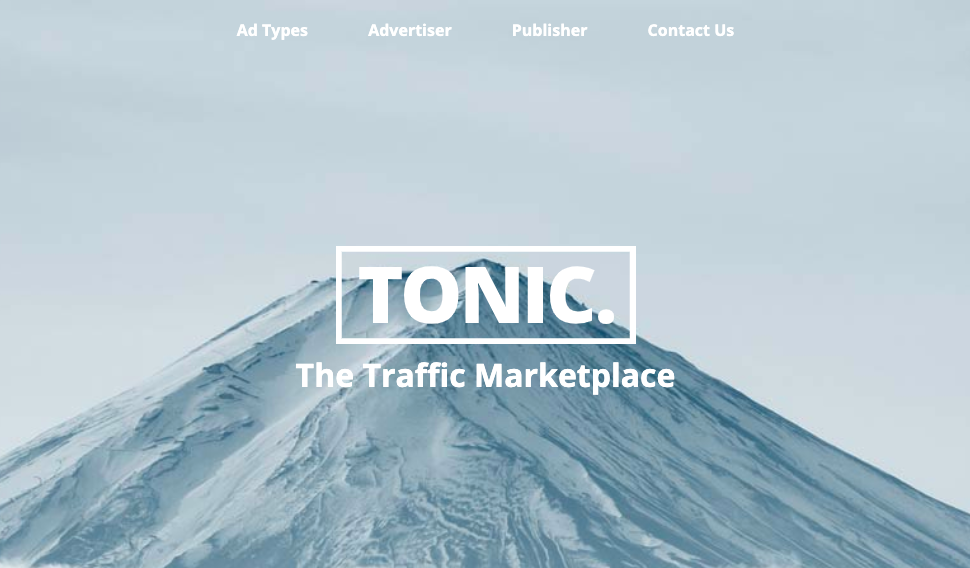 TONIC. offers Zero-Click (PPR) and full-page Pop (PPV) ads. What does it mean? In a Zero-Click model, a user types one of the domain addresses from TONIC's network into the browser bar, they get redirected to the offer you are advertising. Pop traffic is a type of traffic where your ad appears on top of the publisher's web page, usually in a separate window.
This one different from the other platforms in this article as it directly redirects traffic to your website rather than first showing an ad. With it, you can expect cheap traffic but low conversion rates.
This platform is different from the other platforms on the list as it directly redirects traffic to your website rather than first showing an ad.
Targeting options:
Keywords
Location
Categories
Sources
Browser
Devices, and more
Pricing: To start the first campaign, the minimum funding via PayPal is $100.
ADYOULIKE is the native advertising platform that combines user experience, artificial intelligence and semantic targeting to power better ad experiences.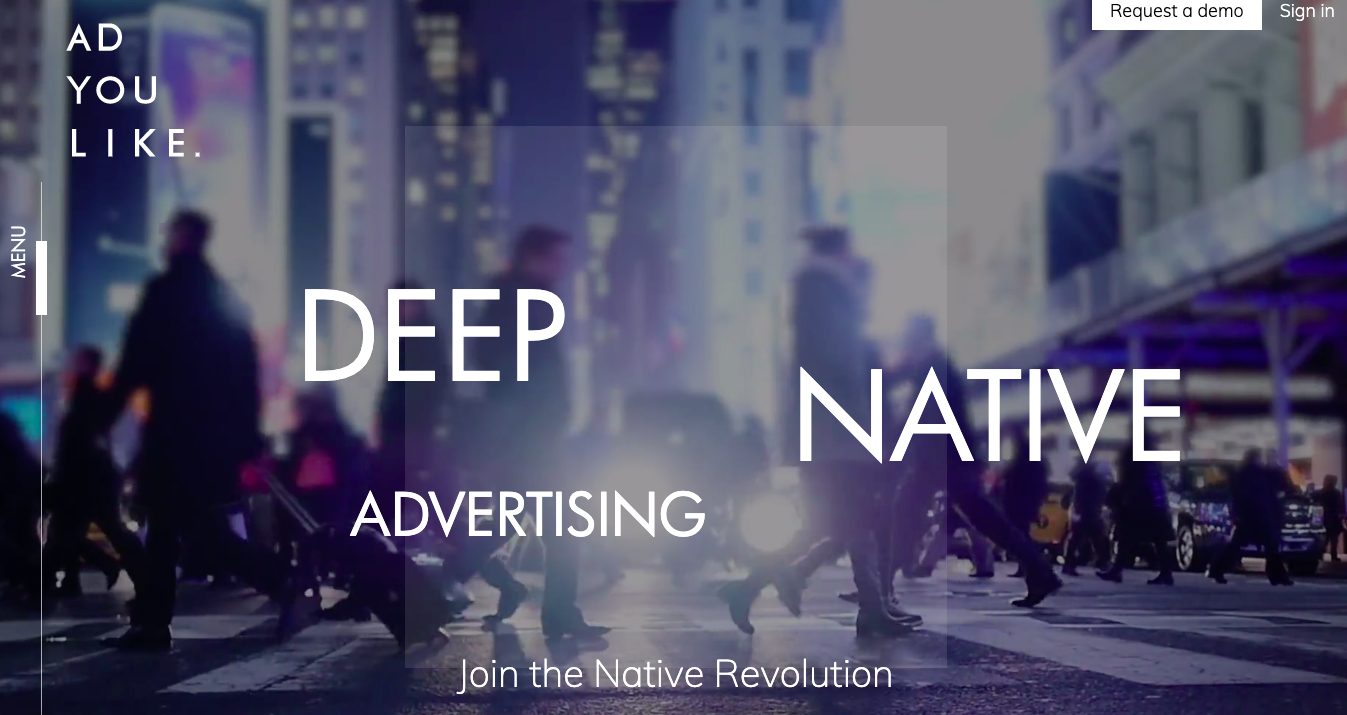 Due to the ADYOULIKE's Artificial Intelligence solution advertisers can define a semantic context for their campaigns, using recognition of keywords and feelings in editorial contents.
The platform specializes in engaging creatives and offers the options for higher ads impact. Of course, this will require more time and effort.
ADYOULIKE recommends content across popular premium websites, such as International Business Times, HITC, Reuters, The Huffington Post, and more.
What we do
AdsJumbo.com is the new innovative verified ad network for Windows Store apps & games. We have developed a new way to monetize windows apps & games that provides an excellent user experience to keep your users happy.
Unlike other existing ad-solutions for Windows Apps on the market, our ad technology is based on 100% fill rate with top revenue, it's very similar to the existing Windows SDK. As a result, AdsJumbo.com provides best ad performance and multiple ad formats including banner, interstitial and video ads!