Are you currently thinking about the difference between Google AdSense and Google Adx?
Google AdSense and Google AdExchange (AdX) are advertising platforms, both run by Google. They allow publishers to gain profit by running ads.
So how exactly are Google AdX and AdSense different? Which platform is more suitable for you to sell your ad inventory on?
In this article, we will break down the main features and outline the differences between Google AdX and AdSense. This will help you figure out which platform is a better fit for you!
Adsense vs Adx | What are the differences?
Google Adx
Google Adsense

Minimum 5 million monthly
pageviews.

No minimum pageviews
required.

Better control over bidding.

Provides control of how many ads
are displayed per website.

More complex setup because you
need GAM.

Setup can be done in just a few
minutes without GAM.

Tool for advanced publishers, with
additional knowledge in the industry.

Tool for small to medium publishers.
What is Google Adsense?
Technically speaking, Google Adsense is a free cost-per-click CPC program that allows publishers to earn profit for every ad click made. Furthermore, since there is a demand for CPM (cost per 1000 impressions), publishers can earn additional revenue every time a CPM ad is served to the website and viewed by a visitor.
The easy sign-up process makes it accessible to any publisher. One of the greatest things about AdSense is that it gives publishers an instant connection with a lot of advertisers automatically.
How does it work?
If your website meets all eligibility requirements, it will be accepted into the network and granted permission to display ads.
The publisher needs to insert an HTML source code into their web page, after which all relevant ads become visible to each visitor of the site.
What is Google AdX?
Through Google AdX, previously known as DoubleClick Ad Exchange, publishers can sell their ad inventory to advertisers and agencies. The platform relies on real-time bidding technology.
As the ad inventory can be bought with real-time bidding, advertisers are granted the opportunity to make fast decisions and bid on parameters such as ad size, ad placement, publisher site, retargeting ads, etc. Thanks to the rise of big data, Demand Side Platforms (DSP) have flourished in particular. Moreover, Google Adx also allows for the display of programmatic ads.
How does Google AdX work?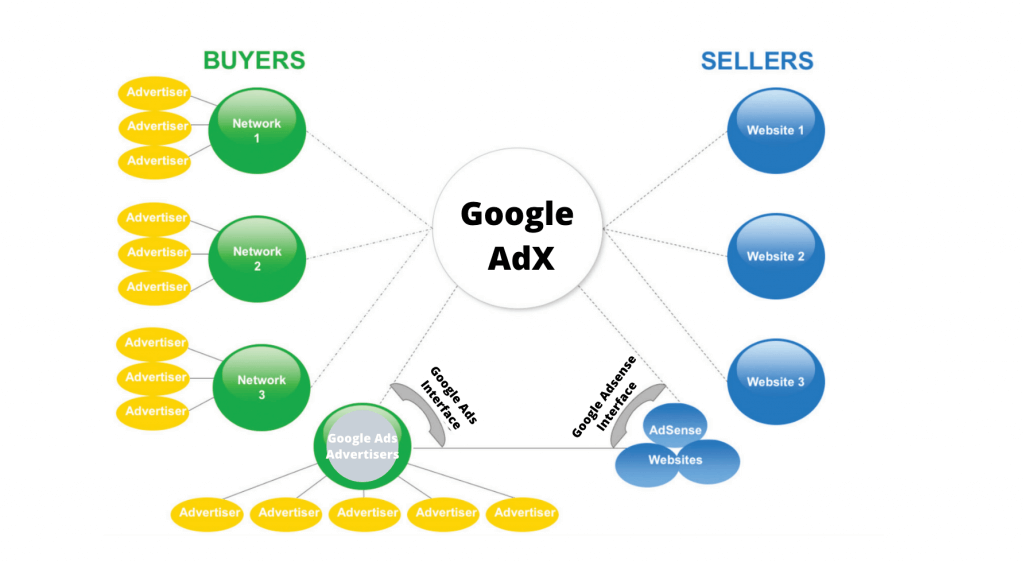 Unlike AdSense, AdX cannot be integrated into a publisher's website directly. This means that the publisher has to first create a Google Ad Manager (GAM) account in order to use AdX. GAM gives publishers the opportunity to display direct campaigns on the publisher's website.

Source – Google
Which one is more beneficial?
AdSense and AdX have many functions in common; therefore, it comes down to the control, scale, and sophistication of your overall marketing efforts.
In terms of revenue sharing, publishers using AdX keep a higher percentage of the revenue than by using AdSense. Moreover, we would suggest AdSense to small to medium-sized publishers who lack technical knowledge. AdX is more suitable for advanced publishers with substantial knowledge in the tech and ad industries.
Remember that by using AdSense, you get paid per click. You could earn more with this platform if your CTR is high. However, remember to keep an eye on your activity, because if your CTR is higher than average, there is a possibility that you have been receiving false clicks. CTR is a crucial indicator of success on AdSense.
If your website has good traffic (for example, 1M page views per month), you should consider monetizing your website with ad operation managers, like Setupad. Why? Because we have developed a header bidding technology that connects you not only to Google Adx but also Pubmatic and other SSPs. Our clients are free from worries about ad quality and malvertising.
Did you know that Native Ads fall in one of the top 5 list of best traffic sources for affiliate marketing? Native ads are considered to be the future of online advertisement used on the internet.
Online advertising has evolved over the years. Colorful banners no longer dominate your screens. Instead, informative, non-intrusive and attractive native ads attract attention and a second read.
What is native advertising?
If you wonder what exactly native advertising is it's a form of advertising that beautifully blends with the content so that you don't even realize it's an ad. This is what provides additional value and content to the visitor, and generates engagement and revenue.
Google also uses a native approach while displaying ads on SERPs and ad websites by mimicking the look and context of placement shown at. Facebook also uses a native approach by displaying only ads relevant to your interests which also serves as part of your timeline.
Why you should look beyond Google and Facebook
Google and Facebook are popular advertising platforms with millions of businesses advertising through them. However, they are not the only ad networks available; there are others worth considering too.
Expensive
Advertising costs on Google and Facebook are rather high, thanks to the competition amongst bidders. The average CPC in AdWords for all industries is $2.69 for search and $0.63 for display where the most expensive keywords are worth $55 per click! Similarly, the average CPC for Facebook ads is $1.72 and steadily rising.
Strict restrictions
Both Google and Facebook have strict restrictions for advertisers. This makes it difficult for some businesses like gaming, adult, weaponry, pharmaceutical, and affiliate marketers to effectively use them.
If you are looking for an alternative, and highly rewarding monetizing native ads network, but are confused and need some assistance, you've come to the right place!
Why Use other Native Ad Platforms?
Let's start with a list of reasons to use native ad networks. Besides being non-intrusive and easily disguised as relevant content to visitors, native ads offer the following benefits:
1. Cheaper CPC and good CTR
Lower cost per click with higher click-thru-rate and higher conversion rate than other advertising options.
2. Trust Factor
Make use the publisher's trust with the same ads appearing on top publisher websites like Forbes and CNN.
3. Less Restrictions
Not many requirements or restrictions to join the network, unlike Facebook and Google, which means quick approval of ads.
4. Available targeting options
While desktop computers may be used while at work to make purchases, more than 62% of people use a mobile device to make purchases, and for research about products and prices.
While it's a known fact that mobile marketing is important, you have to maximize and take better advantage of it by appropriately reaching out to the different devices people use.
Ad networks today offer sophisticated targeting options like geographic location, device, demographic data, and income to choose from. Some even offer retargeting features that let you place your ads in front of repeat customers.
5. Website or Run-of-network options
Most ad networks let you place ads on random inventory sites. This may be disadvantageous because your ads may not get displayed in the network's highest quality or most relevant sites.
However, this also gives you the advantage of exposure at low CPM bids and an opportunity to test various sites and determine what is most consistent with your branding and traffic goals.
8. Relevance with publishers
With ad networks working with thousands of different publishers, it's better to find out which publishers are listed in their inventory and their relevance to your target audience. This is important because there is no point in running ads on websites which your target demographic is least likely to visit or use.
There are so many factors to consider while determining the ad network that's most useful to your business. Remember, there's no rule stating that you have to stick to the first ad network you test. You can always pick another if you try a network and decide it doesn't give you your desired results.
List of native ad networks
Here is our list of native ad networks, which has been divided into three categories, top-tier, middle-tier, and low-tier ad networks.
Top-Tier
The best ad networks are deemed the best because though they may cost the most for investment, they also pay you the most. They also have some strict rules, which is how and why they are the best.
These networks have very strict publisher requirements. This means you can't find or post anything related to porn or racism and nothing scummy, dangerous or illegal.
Only high-quality sites attracting high traffic that are ready to pay anywhere between $0.15 to $2 in the US and top countries for their expensive clicks can join the network. Of course, you in return are paid a lot for your investment.
Here is an overview of the two best native ad networks available today:
1. Taboola
Taboola is a popular content marketing platform and native ad network serving more than 200 billion recommendations to more than 550 million unique visitors every month.
· Earnings
Taboola offers a 50% revenue share to publishers and has some of the biggest brands on their network like BBC, NBC news, Chicago, and TMZ, accessible through high CPC bids.
Being a PPC network, publishers are paid only for clicks and based on the traffic quality and location, a Taboola ad's RPM can reach $2. With a fill rate of 100%, Taboola easily monetizes global and Indian traffic.
You are paid on a NET 45-day basis through Payoneer and have a minimum payment threshold of $100.
· Requirements
Taboola accepts sites with minimum traffic of a million page views per month and offers a more than $2 CPM rate. About 50% of their traffic is from Tier 1 countries, proving that Taboola is a definitive source of high-quality traffic.
· Features
It can be accessed through desktop computers, tablets, and Smartphone and not only lets you target a specific audience but even let you retarget your audience through campaign clickers or Pixel Based options.
It provides online publishers with a 'content you may like' widget to display promoted content like articles, videos, and slideshows. The 'Taboola Choice' feature lets consumers choose the ads they no longer want to see. Taboola also offers quality ads with good customer support.
This is why Taboola is considered a great place for seasoned native affiliate marketers. It's best approached after trying out the other lower tier ad networks or if you have the budget and high quality, premium traffic.
2. Outbrain
Outbrain is perfect for publishers with the right content quality. This is a content discovery platform that connects the audience and content by customizing their services based on the audience's search queries. Outbrain is perfect for marketers to get started with as it's not only self-serve in function but also charges affordable daily spend rates.
· Features
Outbrain publishers monetize content with delightful and engaging content and in turn, can generate amazing revenue results. In fact, it doesn't matter if visitors just click on ads then leave, or stay on it to read related posts. Publishers eventually make money.
They let publishers promote their videos, slideshows, infographics, articles and other media to the more than 80% of leading brands like Men's Health, The Guardian and Runner's World.
Other than getting an opportunity to appear on top-quality placements like Daily Telegraph, Mashable, and The Guardian Outbrain also uses behavioral targeting methods to increase user agreement, they recommend various media types including online, video and mobile.
Publishers can submit as many content copies as needed, under numerous titles to reach out to the ideal customers, and generate maximum exposure and response. Publishers are kept regularly updated on site performance, and can even use their retargeting tool to reach out to past viewers.
· Rates and earnings
Outbrain anyway works on a pay per click model like Google Adwords and offers a highly rewarding ROI. When it comes to RPM rate, Outbrain offers an RPM rate of $0.37 to $1.12 per thousand page views.
The CPM rates here are $0.37 to $3. With regards to traffic source distribution, it's near perfect as it's dominated by Tier 1 countries.
· Requirements
The minimum traffic requirement to join the site is 10 million page views per month, which can be a huge turn-off for many sites. Publishers are paid according to the traffic they manage to divert to the advertiser website.
As Outbrain only supports high-quality content, all advertisements on the site are directly approved by the editorial team. However, the site's strict policies and approval process isn't good news for affiliates.
It's better to check their guidelines before making any submissions to avoid getting rejected for no reason. Just remember that the CPC model here works on a minimum $10 daily spend and that the content has to be updated at least once in 14 days.
Mid-Tier ad networks
As the name suggests, these native ad networks do not have as strict guidelines as the top-tier networks, but at the same time, may give good results and be a better choice for you to start with.
Being mid-tier ad networks, their average rates are reasonably priced at anywhere from $0.10 to $0.5 CPC depending on which countries you target. Here is some information about two middle ad networks:
3. MGID
MGID is one of the oldest, but lesser known and smaller networks. This offers great potential to marketers through lower CPCs, less competition, and fewer entry requirements.
However, MGID does serve to huge market share, thanks to top international publishers and advertisers on the network like Snakkle, Blinkbox and Organic Authority.
· Rates and earnings
MGID's CPC rates are $0.01 to $0.15, where it's higher for tier-1 traffic. It's the news and viral sites that garner the highest CTR here at an average of $1 RPM. The network is a good source of good value CPC traffic, with CPM rates ranging between $0.30 to $2. All payments will be made through PayPal, Web money and Wire Transfer, with a minimum payment threshold of $100.
· Requirements
MGID has a minimal traffic requirement of 10.000 page views a day or 300,000 views per month and an initial deposit of $100. MGID also has more flexible content guidelines than Taboola and Outbrain.
· Features
MGID generates more than 70 million visits a month, and while most of it is from the USA, the other spots are occupied by Tier 2 countries like India and Vietnam.
This is why MGID is considered to offer 'low quality' traffic to some while others consider it a safe option for monetizing Asian and Latin American traffic. Quite a few marketers prefer promoting their offers to tier 1 countries because of higher payouts. However, it also means you have to set higher bids for and pay more for leads to get more traffic.
MGID offers an interesting feature- Traffic Insights that lets you stop guessing which GEO or tactic to follow. It's instead possible to check their three tables Hot Opportunities, Low Competition and Best Performing to know more about the traffic.
MGID offers a less annoying and intrusive user experience with a single recommended content widget instead of numerous annoying ones. There are a few targeting options to ensure your ads reach the right viewers like GEO, language, Browser, and device divided not mobile, tablet and desktop with their respective OS options.
It also offers retargeting options to pursue interesting leads, scheduling feature to schedule the right time to display your ads, frequency capping to decide on the number of times people can see your ads and selective bidding to adjust your bids based on the parameters that give results.
All these features and lower-rates make MGID the perfect entry point for those starting out in native advertising.
4. RevContent
Founded in 2013, Revcontent is highly regarded as the fastest growing content recommendation network in the world. The network powers more than 250 billion content recommendations each month. Considered by many as the largest and best-performing native ad network globally.
· Features
They offer features like support for various geographic, demographic and contextual channels. They also have some of the top international content marketers on board like Reuters, Forbes, and CBS.
Their responsive widgets easily adapt to any screen size without cluttering. Their widgets and also be customized to give a strong native feel of ads so that users don't feel it's an ad.
RevContent actually lets you calculate real-time performance metrics based on the device type, content performance, and website section. It also lets you choose things like the publisher, language, device, country and operating system.
It's retargeting pixels let you show ads based on user actions on your site while brand targeting helps you target the exclusive top publishers and topic targeting lets you choose the website topics you want your ads to appear on.
· Rates and earnings
RevContent is Adsense compatible and their CPM rates can go as high as $3 and while other ad networks take 40–50% of the advertisers' earnings, RevContent takes only 20%. This makes it a more profitable network option for both advertisers and publishers.
They offer a high RPM to clients, between $3 to $40 while their advertisements are offered in various formats like API or JSON, as per the client's requirements.
The US generates most of the traffic to the network, and they have different requirements based on your demographic of traffic.
· Requirements
The minimum website traffic requirement is 3 million page views per month. The network has a minimum payout threshold of $50 and all payments are made through PayPal.
However, websites need to generate at least 50,000 monthly visits to be part of the network. The company claims the right to reject about 98% of applications because they don't believe in compromising of the quality of websites.
They only work with publishers they feel have the potential to reach the premium level. Approved publishers, however, need to include a JavaScript code on the website to show native recommendations.
Applications take more than 10 days for approval and it's better to avoid applying with credit cards which only end up putting a red flag on your application, even if it's in your name.
low-tier networks
Yes, you have guessed it right. These ad networks are called low-tier because they may be the cheapest but they are still a viable source for advertisers and publishers.
Advertisers stand to earn only 1–5 pennies while publishers get 1–3 pennies per click in the US. The pay is even worse in Tier 2 countries. Here are two networks in this category:
5. AdNow
AdNow is a relatively new widget-based native advertising network boasting of more than 150,000 publishers and more than 5 billion monthly impressions. It is ideal to work with if you want high RPM rates, especially if you want to monetize your site through native ads. Despite being a new network, AdNow has roped in Amazon, PeerFly, and eBay on its publisher list.
· Features
They create hybrid ad formats that combine ads and other engaging website content and media banners for better user enhancement. While this may be useful for clients and brands engaged in promotional activities, it leads to poor quality ads with minimal differences between the creative and nature of ads.
AdNow is safe to use with other ad networks like Adsense. AdNew has simplified things for uses. You just have to copy and paste the HTML code of your native ads onto the blog.
There's a statistics tab for monitoring your performance and earnings in real time. They have a quick and helpful customer support system.
· Rates and earnings
Their CPM rate is $0.1 to $2 and payments are made on a $20 minimal payment threshold. AdNow calculates earnings based on impressions, where you are paid on a weekly or Net 7 basis through PayPal, Web money and Wire Transfer. The network also offers publishers with a referral program and earns more money.
AdNow seems to perform well for EU traffic, especially across the whole of Europe.
· Requirements
AdNow doesn't have any minimum traffic requirements. You just need to have content on your site. AdNow accepts all language content, so not just English.
However, publishers don't permit any pornographic, defamatory and libelous content inciting violence or which may demean people based on age, gender, disability, sexual orientation, race or ethnicity.
6. Content.ad
Content.ad is a popular native ad network with a large network of advertisers and publishers. This is a platform ideal for all types of niche websites thanks to its solid advertiser base. It has the potential to garner decent traffic and is especially useful for Europe based users.
· Features
Content.ad presently serves more than 20 billion page views a month and calculates revenue based on eCPM and eCPC advertising. Whilst it delivers high worldwide traffic rates, it offers a100% fill rate to publishers.
· Rates and earnings
Their RPM and CPM rates are anywhere between $0.05 and $2 and all payments are made on a NET 30-day basis through PayPal, Wire Transfer, cheque and Hold My Payments upon reaching a $50 payout threshold. They offer a steady source of income for publishers with substantial tier 1 traffic.
· Requirements
There is a minimum traffic requirement of 30,000 page views a month to join the network. In other words, it has an easy approval process, making it the ideal choice for sites not approved by other networks.
Do you have another Native Ad Network you think should be on this list? We've tried to get a couple from each tier level to help your journey into the world of native advertisement. Thanks for reading and feel free to leave any comments!