Mutual trust is important for us and for partnership!
How to Advertise on TikTok (And Should You?) - AdsJumbo Native Advertising, Monetize Apps, Websites
Two years ago, you'd think TikTok wouldn't get popular among audiences over 16. Today, you understand you might be missing out on great opportunities while not building a presence on Tiktok.
The fastest way to get traction on any platform is paid advertising. But before you invest in advertising on TikTok, let's figure out how it works and what you should expect from this experience.
What differentiates TikTok from other channels
No, it's not about the age of its audience. TikTok is no more a platform for teens only. In further sections, we'll talk more about TikTok demographics.
So, what makes TikTok different from other channels from the marketer's perspective? It's like Reddit in the world of visual content. Users won't accept manipulative and inauthentic content. Boring one-size-fits-all messaging won't work there.
"Our community wants to show its real self and does not care about a few flaws being exposed. It is raw, authentic, creative self-expression. In other platforms, there is editing and color-correcting – it is so perfect, it doesn't feel real," here's how Norio Ichikawa, TikTok's Creative Director, described the key feature of the TikTok community.
Ready to unleash your creativity? Then you're ready to run TikTok ads.
Types of TikTok ads
There are four major creative ad formats for businesses to explore.
In-Feed Ads
In-Feed Ads appear in the native news feed as you scroll through the For You page. These sponsored posts can include CTAs that lead to your website, app download page, or encourage you to take action right on the platform (e.g.invite to participate in a branded challenge).
This is the only advertising format on TikTok that has the self-service option. Just like on Facebook or Google, you set a bid, and the platform runs an ad auction to determine whether your ad will be shown to a person that you're targeting at a given moment. The other advertising formats require a fixed budget on a daily, weekly, or monthly basis.
Brand Takeover
Full-screen static or dynamic displays that appear right when a user opens the TikTok app.
The category is exclusive, which means that TikTok ensures only one Brand Takeover is seen by a user per day. This is also why this advertising option comes at a high cost.
Branded Hashtag Challenge
Branded Hashtag Challenge is an exclusive TikTok feature. You can find branded hashtags on TikTok's Discovery page.
If you click on a sponsored hashtag, you'll be taken to a TikTok page with a brand logo, link to the company website, challenge description, and a list of popular videos that use the hashtag.
Hashtag challenges are viral campaigns that allow brands to enter TikTok and gain followers fast.
For ecommerce brands willing to benefit with hashtag challenges, TikTok adds a shoppable component to the hashtag, called the Hashtag Challenge Plus. The feature is yet to be released officially, but it has already been tested by Kroger, an American retail company.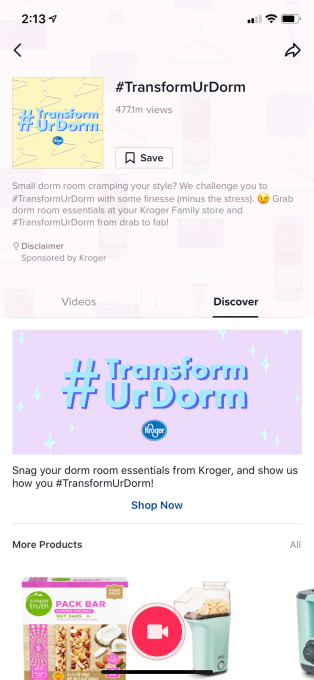 Branded Lenses
Brands can also partner with TikTok to create and release custom lenses, stickers, and other AR content that users can apply to their videos.
What audiences will you find on TikTok?
Getting back to TikTok audiences, who are they?
The platform creators know how to engage younger audiences. 32.5% of its users are under 19. And while it's clear enough the app is overwhelmingly popular among teens, TikTok audiences have aged up since 2017.
In the US, 29.5% of active TikTok users are aged 20 to 29, and 30.3% of users are between the ages of 30 and 49.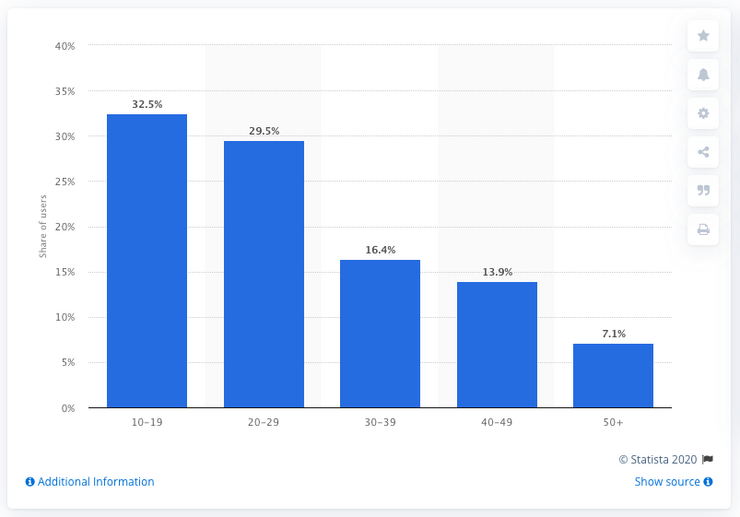 What about locations?
In 2019, a list of top 10 countries by user base on TikTok looked this way:
India – 119.3mn users
USA – 39.6mn users
Turkey – 28.4mn users
Russia – 24.3mn users
Mexico – 19.7mn users
Brazil – 18.4mn users
Pakistan – 11.8mn users
Saudi Arabia – 9.7mn users
France – 9.1mn users
Germany – 8.8mn users
If we look at the number of TikTok downloads from the Google Play store worldwide in May 2020, we'll see the same countries taking slightly different positions: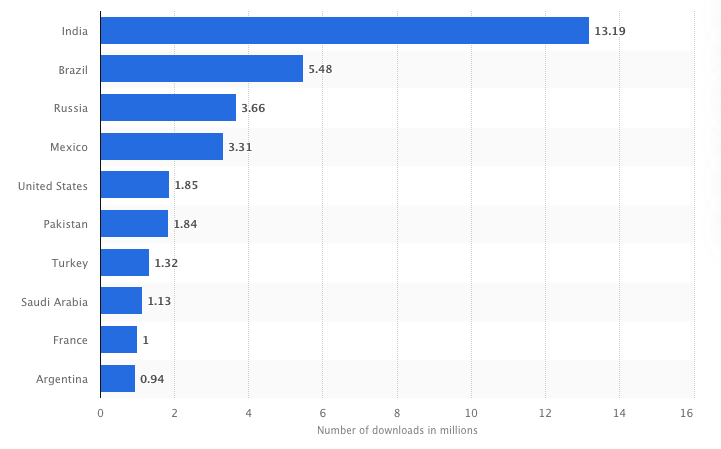 Note: Mind that self-serve advertising on TikTok is available only in certain countries. Check out the list of available locations before you start building a strategy.
A few more words on TikTok statistics
Let's take a look at a few more TikTok stats that marketers should know about:
What goals do TikTok ads work well for?
With a well-thought-out campaign, you can reach almost any marketing goal on TikTok. And this is why TikTok has become a great alternative to more popular advertising channels.
TikTok advertising objectives are grouped based on the buyer's journey stages, such as Awareness, Consideration, Conversion. Within these categories, you can choose one of the following goals:
Reach
Traffic
App Installs
Video Views
Conversions
How much does TikTok advertising cost?
TikTok advertising isn't a cheap option. Here's what you need to know before you start.
Branded Hashtag Challenges might be organic as well as sponsored. It depends on your promotion strategy. You can either expect your challenge will go viral organically or partner with TikTok (and pay $150K a day) or platform influencers to get traction right away.
To run In-Feed Ads on TikTok, your minimum daily budget should start from $50 per campaign and $20 per ad group. TikTok already supports the four most popular bidding methods, namely CPC, oCPC, CPM, and CPV.
The approximate spend for the Brand Takeover format is $50,000 per day.
Which advertising format is right for you?
Users on TikTok actively interact with branded hashtag challenges.
World-famous B2C companies, like Colgate and NYX, have gone viral by encouraging people to create videos celebrating their brands. How have they done that? They've found the right balance between creativity, clear directions, and thoughtful brand integration.
However, a good idea isn't enough to launch a viral challenge on TikTok. Influencers will play crucial roles in the success of your campaign. Users need to get inspired by people they admire to join your challenge. Just choose a few influencers popular in different demographic segments, and you'll nail it.
Brand challenges are a perfect way to enter TikTok and create buzz around your brand, but it's useless if you don't aim to build a long-term TikTok marketing strategy.
What about more 'traditional' advertising methods on TikTok? TikTok In-Feed Ads are widely used to support brand challenges (if your goal is awareness) as well as to promote landing pages, apps, or other assets. We recommend that you start with this format to see whether you can find the right audiences on the platform.
As your ad will appear in between user-generated videos recommended by TikTok, you have only a few seconds to catch the user's attention before they skip it. Make sure to create content that fits the platform format so that it's not so obvious at a first glance that this is a promotional campaign.
How to create a TikTok ad
To launch your first paid campaigns on the platform, you'll need to create a business account first. Having access to the self-service dashboard, you can start creating In-Feed Ad campaigns.
After you click on the Create button, you'll need to choose your campaign's objective and set a daily budget if you want to limit it.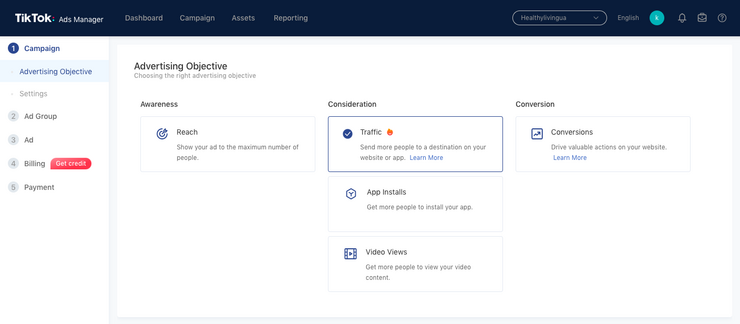 In the next section, you're offered to configure your first ad group. Here you select placements and promotion type, enter your landing page URL or pick an app for promotion.
Next come targeting configurations, which are quite similar to the rest of the platforms. TikTok allows advertisers to target audiences by major demographics, device types, interests, or connection types.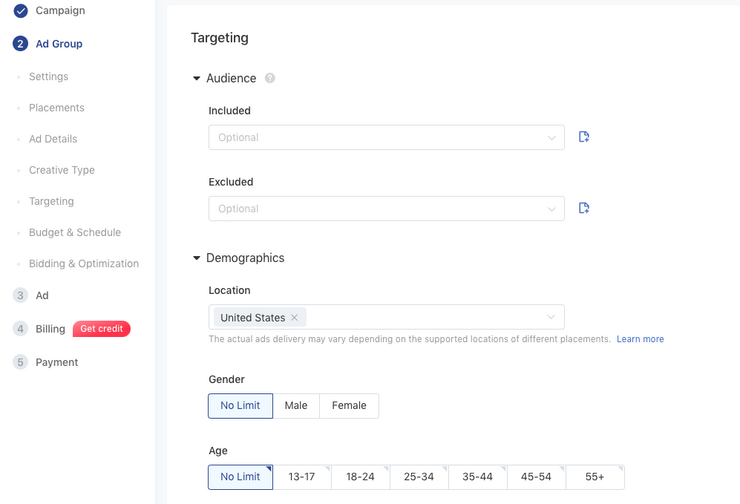 Can you create custom audiences on TikTok?
Custom audiences are available on TikTok. With this type of targeting, you can run remarketing campaigns, reaching your website visitors, people who have taken action within your app, previous customers, etc.
Advertisers can create custom audiences in several ways: you can add events by yourself or install the TikTok pixel.
To create custom audiences, tap on the emply field below 'Audiences > Included' and choose 'Create New.' You'll be offered the following options:
App activity. These are events your third-party tracking platform have captured.
Engagement. It captures audiences that have taken certain actions on TikTok's family of apps, such as TikTok, BuzzVideo, Babe, and others.
Customer files. You can upload customer files to match your customers with people on TikTok.
Website traffic. By using the TikTok pixel, you can target people who have taken specific actions on your website.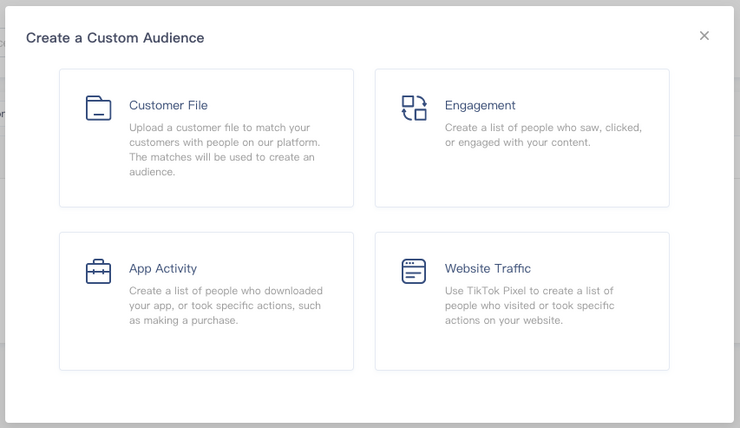 Now, let's move on to bidding and optimization.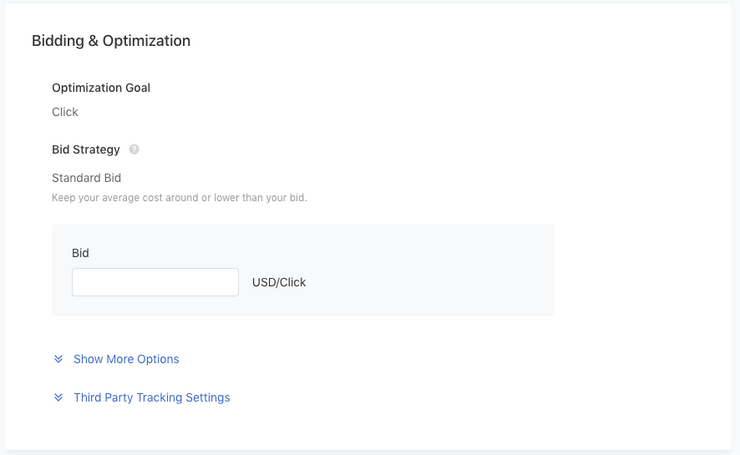 Along with setting a bid, you can choose the delivery type, i.e. define the pacing of your ad spend:
Standard delivery means that your budget and ads will be distributed evenly during the selected advertising period.
Accelerated delivery tells the system to spend your budget and bring your campaigns to the result as quickly as possible.

The last step is ad creation. Choose between a video or single image ad. You can either upload a ready material or build it in the interface with the help of TikTok tools and templates.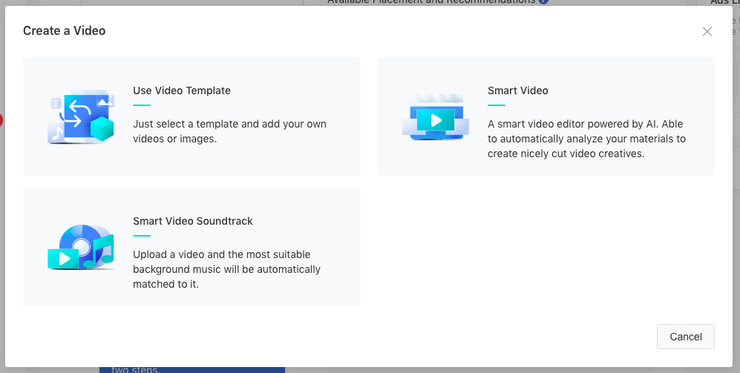 When the campaign is set up, submit it for review.
TikTok Ads best practices
In other words, what's a formula for creating winning TikTok ads?
Use high-quality images and videos that meet TikTok ad specs.
Create content that fits the format of the platform. Attention-grabbing visuals, background music, and concise captions in the local language are a must. Include the most important text in the first few seconds.
Whether you're promoting a discount or a branded challenge, it should be easy for a user to take action.
If the link behind your CTA leads to the external resource, give users the reason to leave the platform. Exclusive coupons work particularly well in these cases.
Run A/B tests to identify the most effective technique(s). Use diverse creatives.
Analyze campaign performance and improve future campaigns based on your learnings.
Update your ads regularly (every seven days or so).
Examples of TikTok advertising done right
So how does a great TikTok In-Feed Ad look?
Princess Polly
Princess Polly is an online fashion boutique for women. The brand shares values of younger audiences and emphasizes on ethical and sustainable fashion. Their goal was not only to build awareness among TikTok audiences but also to drive more traffic to their website, which in turn would lead to improvement in sales.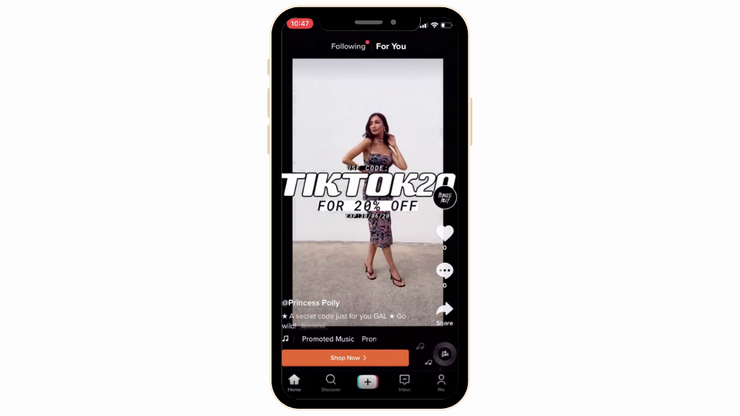 Advertisers used the unique discount code to get more traction as well as to attribute sales that the campaign has driven to the channel. The campaign has generated over 9 million impressions, 1.05% click through rate, and 15X return on ad spend.
My Jolie Candle
Here's one more campaign aimed at driving traffic and increasing e-commerce sales.
My Jolie Candle offers a diverse range of scented candles, bath bombs, and jewellery. The brand designed a suite of In-Feed Ads with a goal of boosting traffic to its e-commerce site in France.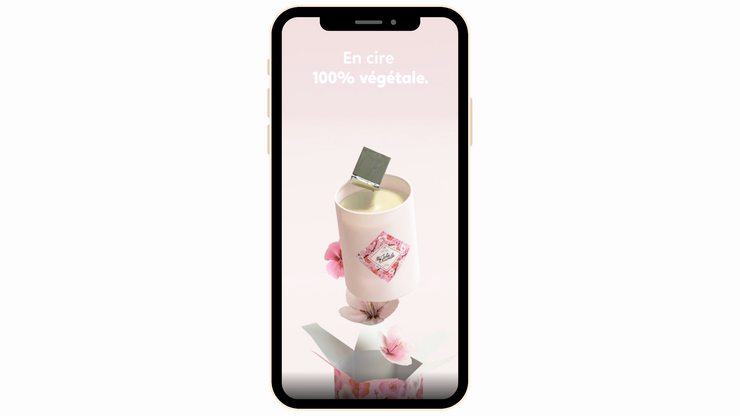 As Mother's Day was approaching, the brand built its campaigns around gifting My Jolie Candle products. Both broad and retargeting campaigns delivered over 200K and more than 1,800 conversions.
---
What we do
AdsJumbo.com is the new innovative verified ad network for Windows Store apps & games. We have developed a new way to monetize windows apps & games that provides an excellent user experience to keep your users happy.
Unlike other existing ad-solutions for Windows Apps on the market, our ad technology is based on 100% fill rate with top revenue, it's very similar to the existing Windows SDK. As a result, AdsJumbo.com provides best ad performance and multiple ad formats including banner, interstitial and video ads!