Mutual trust is important for us and for partnership!
How to Choose the Right Native Advertising Network - AdsJumbo Native Advertising, Monetize Apps, Websites
The advertising industry keeps evolving, and so does the native advertising market. In the early ages of native advertising, there were not so many alternatives advertisers and publishers could choose from. Moreover, most options were small or regional networks that couldn't help you reach large audiences.
Since then, the years have passed and at least 1,000 networks have appeared. Now, there are platforms for all tastes: you can either go with a small country-specific native advertising network to promote your local business or advertise on a large platform that has plenty of popular publishers worldwide.
For the best results, you might need to leverage several native ad platforms at once. With this approach, you can test if your content performs better on a specific platform or just reach more potential customers by leveraging the audiences of several networks. And here comes another problem. With so many native advertising platforms available today, how do you know which one will work the best for your specific goals?
In this post, we'll highlight 6 things you should consider to choose the right native advertising platform.
Audience
If you produce audiobooks for German-speaking audiences, you'll obviously want to drive traffic from Germany, Austria, and Switzerland. As it's most likely you want to target audiences from the specific locations, it's crucial to make sure the traffic you drive with the chosen platform comes from the relevant countries.
While Taboola's ads drive high-quality traffic from English-speaking countries, such as the US and UK, the platforms like AdUp, Plista, and Twiago, due to stronger local publisher connections, could perform better when it comes to targeting German-speaking audiences.
Next, what's your audience interested in? Which websites do you want your ads to be displayed on? Different native ad platforms work with different publishers, so don't hesitate to ask for a publisher list before signing up with some network.
For example, TripleLift can be the right decision for those who want to reach the readers of lifestyle blogs or auto news, whereas Dianomi solely focuses on advertisers that offer finance and business-related products and services.
Native ad formats
Have you already come up with the idea of what your native ad should look like? Do you want it to be a dynamic creative, a video roll, an in-text ad, or a part of a promoted listing? If you have a vision of your creative appearance, pay particular attention to the type of native ads the platforms offer.
For instance, Revcontent supports the most popular content types, including text & image recommendations, videos, and mobile apps.
Let's look at the examples of different ad formats…
In-feed units. These ads appear within your feed on social media or among other blog posts with the 'sponsored' label. Branded messages fit seamlessly within the surrounding content not disrupting the user experience.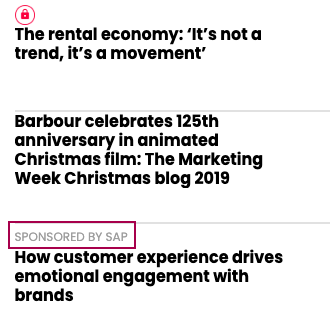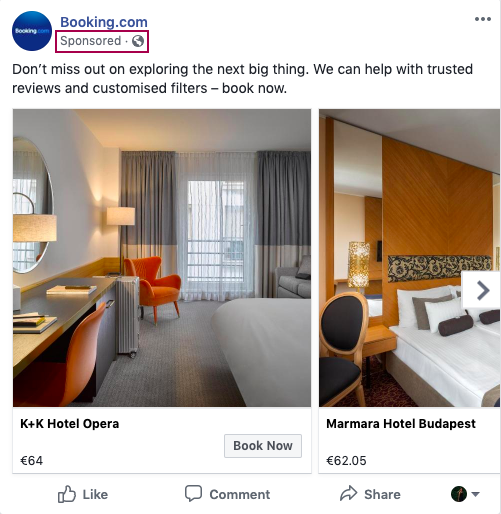 Promoted listings. This ad format is typically used by e-commerce websites to feature sponsored products. The ads look identical to the products already listed on a given page.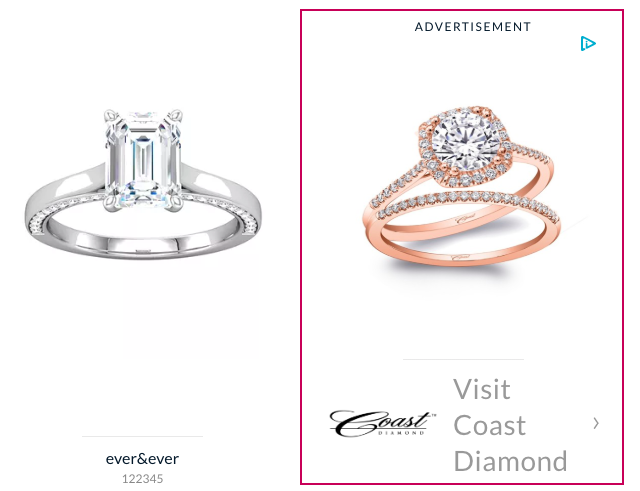 Paid search ads. You face these ads every time you use search engines to find the necessary information. Paid search ads can be displayed above or/and below organic search results.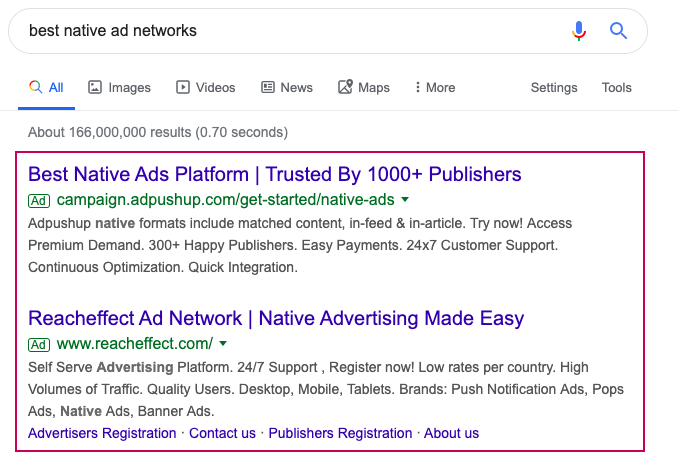 Content recommendation widgets. Remember the 'recommended content' or 'you may also like' widget you see every time when you scroll down another blog post? Right, this is another and one the most effective formats of native advertising. These content recommendations can be of any format: text ads, video ads, carousel ads, etc.
The major benefit of this approach is that your native ads can be displayed on some of the largest premium publishers' websites, such as CNN, The Washington Post, Spiegel Online, Bild, The Guardian, etc.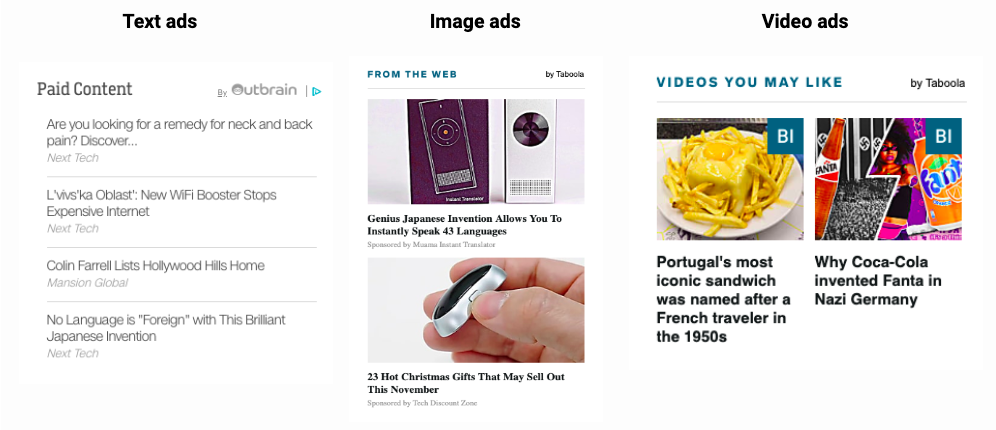 This ad format remains dominant, as it not only helps brands drive conversions but also contributes to increasing brand awareness and credibility, which is even more important today.
Want to connect with other native advertising experts?
Join the Native Ad Talks community on Slack and learn from other professionals, share your experience, and more.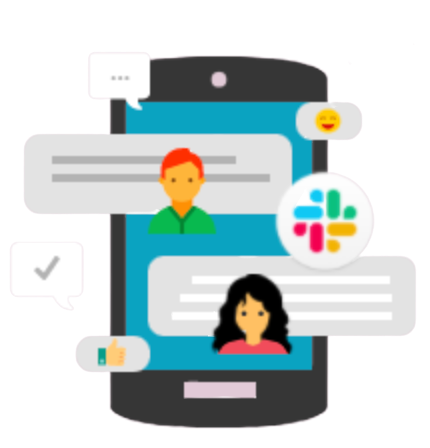 Targeting options
Whatever your objectives are, you'll only attain them reaching the relevant audience.
Different tools deploy different technologies that allow them to provide more advanced targeting options beyond geo- or device targeting. While Outbrain and Revcontent let their advertisers select specific categories their audiences might be interested in, Yahoo Gemini enables users to target specific audiences based on Verizon Media's rich inventory of data partners (third-party audiences).
When you compare different platforms, pay specific attention to how each ad network offers you to target your audience. While some platforms will let you select specific websites from their network for your ads to appear on, others will only allow you to block some websites you don't want your ads to be displayed on.
Bidding models
There are various bidding models different platforms offer. The most common ones include:
Manual CPC – in this model, you set the cost-per-click bid that will be used in the auction.
Enhanced CPC – the model where the CPC bid is adjusted to optimize towards conversions.
CPA – a model where you pay for a specified acquisition, such as sign up, sale, form submit, etc.
Target CPA – an automated bid strategy that automatically optimizes your bids towards a certain conversion value.
CPV – a method for video campaigns where you pay for a view
CPM – cost per mille, also known as cost per thousand. In the CPM model, you pay for one thousand views or clicks of your ad.
Some native advertising networks go beyond these strategies and provide more options. For instance, Yahoo Gemini allows advertisers to adjust bids for different publisher groups: you can set higher bids on the premium spots and decrease bids on other websites.
Reporting
To keep improving your performance and build an effective native advertising campaign, you'll need to monitor intermediate results regularly.
One of the next things to consider is reporting capabilities the native ad platform provides. As some networks provide limited information on their features, ask for a demo to make sure you'll get access to all the crucial data. Here are some questions you might want to ask:
What KPIs can I measure there?
Does its interface allow me to export granular reports?
Can I create custom reports?
Is there any way to select multiple dimensions when scheduling a report?
What are the filters available?
Price
You may select the best network that partners with a wide range of premium publishers, but the price is often a critical factor in such matters.
Of course, there's no standard price you can pay for using this or another platform. Some networks set minimum sum advertisers should be ready to spend per day, while others require advertisers to add a certain sum to their accounts.
Before you sign up, check for the platforms' bidding models, functionalities, and minimum bids claimed. It will help you not to waste your budget before you start reaching your goals.
What we do
AdsJumbo.com is the new innovative verified ad network for Windows Store apps & games. We have developed a new way to monetize windows apps & games that provides an excellent user experience to keep your users happy.
Unlike other existing ad-solutions for Windows Apps on the market, our ad technology is based on 100% fill rate with top revenue, it's very similar to the existing Windows SDK. As a result, AdsJumbo.com provides best ad performance and multiple ad formats including banner, interstitial and video ads!