Mutual trust is important for us and for partnership!
Is Native Advertising Good? - AdsJumbo Native Advertising, Monetize Apps, Websites
Who hasn't seen examples of low quality, offensive, or just annoying native ads? With this in mind, is there still a question of whether native advertising is good or bad? Let's figure it out together.
We face native ads every time we scroll through our newsfeeds. We see them offering us the top 10 products to prevent cancer, images of TV stars before and after surgeries, and, of course, quite a few unique tools that will change our lives forever. These are the pieces many of us imagine at first thought of native ads. But if everything is so primitive, why do advertisers keep investing in native ads? Why do the world's top publishers keep displaying these ads on their websites?
In this post, we'll look into arguments against native advertising, talk about its strengths, and come to the conclusion on this question.
We should also note that we're going to list the goods and bads of native ads from the users' and publishers' perspective. Check out our article on native advertising pros and cons to learn how things stand from the advertisers' perspective.
Why native advertising is bad
We'll start with the bad of native advertising. Native advertising is often called among other factors that might put the future of journalism under threat. Here's why.
Native ads can be used to distribute fake news
Affiliate marketers are trying hard to attract users' attention. To make people click on their ads, they develop promising headlines, use catchy images, and often offer fake news. This is no good for websites where this sponsored content appears and for journalism in general.
Poorly crafted campaigns might affect the user experience
Low-quality images, poor targeting, and frustrating landing pages – each of these elements alone might hurt the user experience. And what if they're put all together? It's no good.
In attempts to deliver a lot of traffic to their websites, some affiliate marketers make a common mistake of developing ads that don't reflect the actual content of their landing pages. It's also a popular technique to develop a blog stuffed with ads and promote its articles with the help of native advertising. These blogs rarely produce trustworthy content, and when a user sees a publisher 'linking' to such a resource, this might call into question the publisher's authority as well.
Want to connect with other native advertising experts?
Join the Native Ad Talks community on Slack and learn from other professionals, share your experience, and more.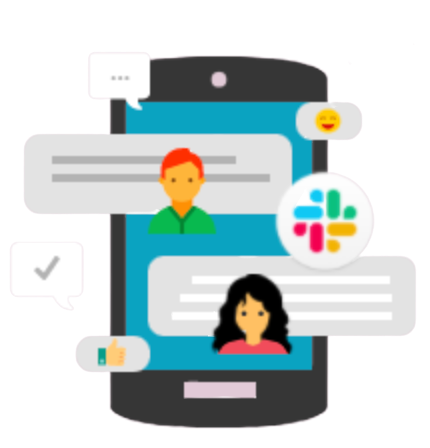 Native ads can be confusing
This point is related to the question of the ethics of native advertising.
Consumers might feel cheated when clicking on a sponsored content link with no or barely visible advertisement labels and only realizing that's an advertisement after reading a post.
The initial idea of native ads is their integrity with editorial content. A few years ago, it wasn't necessary to disclose that your paid content was, in fact, paid for. It's no surprise that marketers were taking advantage of it, delaying the moment of revealing their intent as long as possible. A user might see an interesting headline without any disclosure, click on it, and spend time reading an article to find out it was an advertising campaign. Of course, many consumers would feel deceived.
But we don't think this problem is still relevant if you advertise with a quality native ad platform. With clear ethical standards for sponsored content, there's a little risk of coming across a native ad that has no distinctive features.
Why native advertising is good
It's no doubt that native advertising shapes the future of the advertising industry and even journalism. Let's talk about its positive contribution in more detail.
Native ad platforms provide strict review policies
After the Coronavirus outbreak, Taboola's content review team got extremely busy. In order to prevent the spread of Covid-19 misinformation, Taboola updated their ads policy and invested greatly in detecting and rejecting misleading requests.
But Taboola isn't the only platform that takes effort to support journalism. Different content distribution networks have their own policies and guidelines that don't allow offensive or shoddy content.
Native advertising supports journalism
Money doesn't grow on trees. To bring news and meaningful stories to their audiences, publishers need financial support.
In order to keep their websites accessible to every user and avoid the introduction of paid subscriptions, many premium publishers monetize their traffic with advertising. It's fair to say that among all the other advertising methods, native advertising is the least disruptive.
Being non-intrusive and even useful to potential buyers, native ads became one of the safest ways for publishers to stay independent.
As many publishers make their ad space available for trade on ad exchanges or native ad platforms, they don't even need to do any job of distinguishing editorial content from sponsored content. When being served by these mediators, native ads are provided with labels that inform readers about the type of articles they are consuming.
Native ads can be effectively used to spread important messages
While some marketers use native ads to distribute fake news, others leverage them to support people and even save lives.
Outbrain's social distancing promotion campaign is an excellent example of how native ads can be used for the public benefit.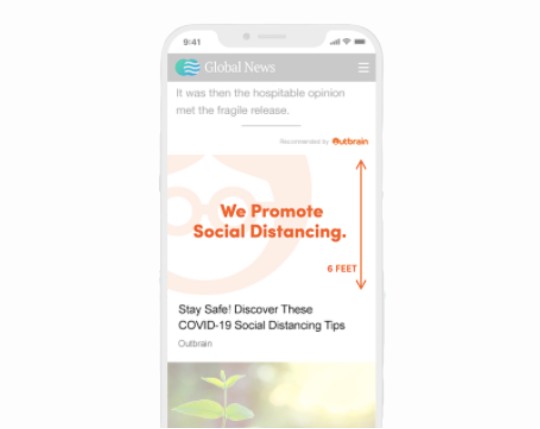 People might just like native ads
When done right, native ads can be more effective than any other type of advertising.
People don't hate advertising as such. They hate the feeling of being sold to. But when ads make sense for readers, nobody would complain about them being annoying or irrelevant.
Unlike traditional advertising practices, native isn't aggressive. It's often used to provide value and establish meaningful relationships between brands and customers. With 70% of users being open to discovering products or services through branded content, it's no doubt that native advertising is a win-win for both advertisers and publishers.
Below you can find a few relevant and timely native advertising examples we came across after the pandemic outbreak.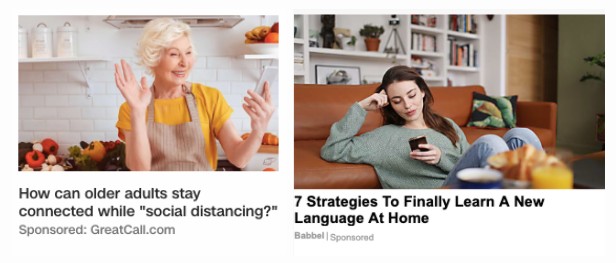 The combination of ads that pique users' curiosity and content that delivers on its promise is key to native advertising effectiveness. Brands that understand the importance of transparency and take effort to produce quality ads and landing pages will see exceptional results from their campaigns.
What we do
AdsJumbo.com is the new innovative verified ad network for Windows Store apps & games. We have developed a new way to monetize windows apps & games that provides an excellent user experience to keep your users happy.
Unlike other existing ad-solutions for Windows Apps on the market, our ad technology is based on 100% fill rate with top revenue, it's very similar to the existing Windows SDK. As a result, AdsJumbo.com provides best ad performance and multiple ad formats including banner, interstitial and video ads!