Mutual trust is important for us and for partnership!
Native Advertising FAQ: 10+ Things You Wanted to Know - AdsJumbo Native Advertising, Monetize Apps, Websites
Native advertising is no rocket science. But to build a successful campaign, you need a good knowledge base. We collected the most frequent questions about native advertising and answered them to help you get a running start.
Native advertising FAQ
Note: If you want to delve into the subject, check our our directory of native ad courses and resources.
What is native advertising?
Well, if you're interested in native advertising, you might have already learned what it is. But it's a native advertising FAQ, so…
Native advertising describes any situation where branded messages fit seamlessly within their surrounding environment, engaging audiences rather than disrupting the user experience.
The definition of native advertising by Taboola
What are the types of native advertising?
Native ads can be of different types and forms. You can see them when reading your favorite blog or scrolling down your social feed.
Here are the most common native advertising types.
Content-recommendation widgets
These are the recommended content units you see below articles on the publishers' websites. They are usually marked with 'paid content' or 'you may also like' labels. Being displayed within the editorial content recommendations, these units are non-intrusive and don't disrupt the user experience.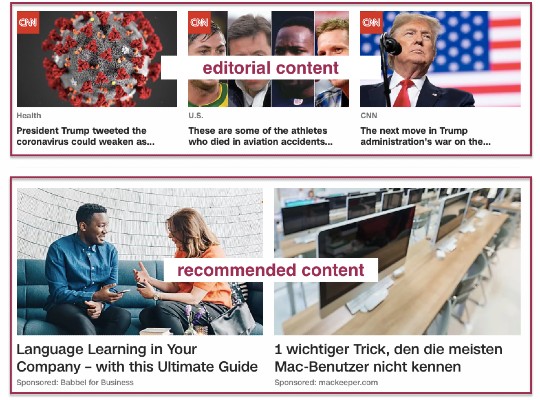 At Joinative, we can help you optimize your content recommendation units. You can either give us control over your campaigns and enjoy the results or learn from our account managers to run successful native advertising campaigns yourself. Learn more about our native advertising services.
In-feed social ads
This is one of the most popular types of native ads. These ads are widely spread across Facebook and Instagram and are known for the quality of targeting.
Promoted listings
You might fail to notice you come across these ads while scrolling down when shopping on Amazon or another eCommerce website. Promoted listings feature sponsored products and look like other products listed on a given website.
Paid search ads
Paid search ads are units displayed on Google or Bing that resemble the form of organic search results with the exception of disclosure aspects. While they do fit the description of native ads, they're generally not referred to as such.
What are the benefits of native advertising?
The popularity of native advertising is growing, and for good reason. A successful native advertising campaign can be extremely beneficial to companies and marketers who want to reach more people, increase engagements, or drive conversions. To illustrate the major benefits of native advertising, let's look at the statistics:
Consumers look at native ads 53% more frequently than typical display ads, meaning that native advertising is an effective method to build brand awareness.
Native ads cause an 18% higher lift in purchase intent. So, if you want to run a native advertising campaign to attract leads, this is the right sign for you to start.
70% of consumers say that they prefer to learn about new products or services from content rather than traditional ads. Thus, native advertising is an extremely effective way to increase interest in your company and build brand credibility.
What are the disadvantages of native advertising?
While bringing a lot of advantages to advertisers, native advertising has its own challenges. Before you launch a successful campaign, you'll need to:
Spend time to pick up the right platform. It can be a time-consuming process, but without it, you might miss the opportunities only specific platforms could bring you.
Learn how to make the most out of every platform you use. Different platforms aren't equally user-friendly and offer different setting options, which can be challenging if you've never worked with them before.
Research your target audience and select the targeting options to go with. If you don't succeed, you'll be wasting your budget on a campaign that delivers no results.
Be ready to monitor and optimize your campaigns. A native advertising campaign (like any other marketing campaign) isn't something you can set up and enjoy the results immediately. It takes time to identify the best practices and reach your goals.
What are the examples of native advertising?
Many successful brands run native advertising to grow reach and gain more customers. Here are just a few of our favorite examples of native ads and landing pages they lead to: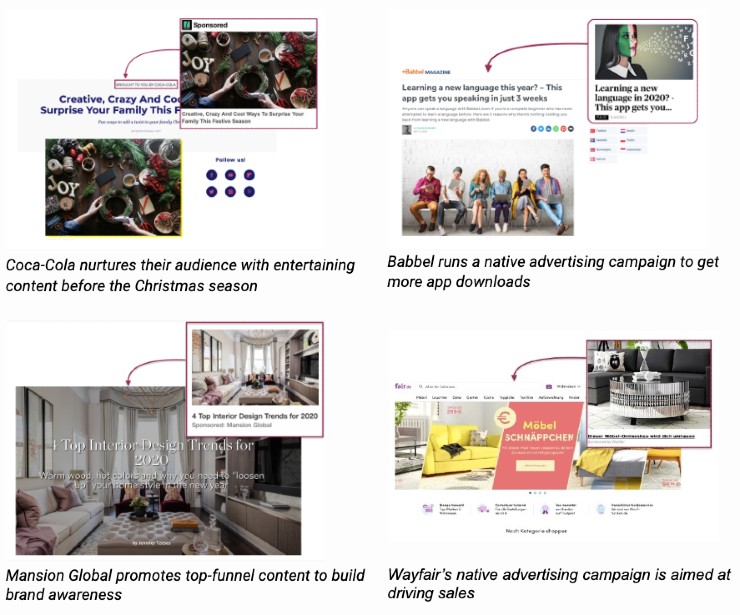 Each of the above-mentioned examples illustrates the ad and the landing page it leads to.
What are the biggest native advertising publishers?
Most of the world's popular websites display native ads. Here are the 20 biggest native advertising publishers that will help you reach a broad audience:
MSN
Business Insider
HuffPost
CNN
NBC News
The Guardian
The Telegraph
MarketWatch
Daily Mail
AOL
Time
Spiegel Online
Bild
Auto Bild
Sport1
Die Welt
WirtschaftsWoche
Le Monde
Le Figaro
L'express
How to start with native advertising?
We've already defined what native ads are. But what do you need to do to make them work?
Following this pattern, you'll be on the right way to building an effective native advertising campaign:
If you go with the recommended content option, you'll need to pick up a content distribution network first.
Next, you should define your goals. The campaign setup will depend on your aim.
Determine how you're going to measure the native advertising performance.
Create or select the content that fits the goals you've set. Although advertisers mostly focus on creating intriguing creatives, your landing page is what will help you deliver results.
Search for the best practices of native ads creation. Taboola Trends shows how different elements, such as images, keywords, topics, etc. perform depending on the advertiser's niche.
Monitor, evaluate, improve.
How much does native advertising cost?
A well-crafted native advertising campaign will be more cost-efficient than most traditional paid advertising campaigns.
On average, you might want to set the following CPCs for a typical native advertising campaign:
0.50 – 0.90€ for desktop
0.30 – 0.70€ for mobile iOS
0.20 – 0.60€ for Android
These native advertising CPC benchmarks will help you if you want to start with broad campaigns. We recommend that you adjust your bids later based on your campaign performance data. If you want to go with retargeting or target very limited audiences, you'll also need to set higher bids.
Want to connect with other native advertising experts?
Join the Native Ad Talks community on Slack and learn from other professionals, share your experience, and more.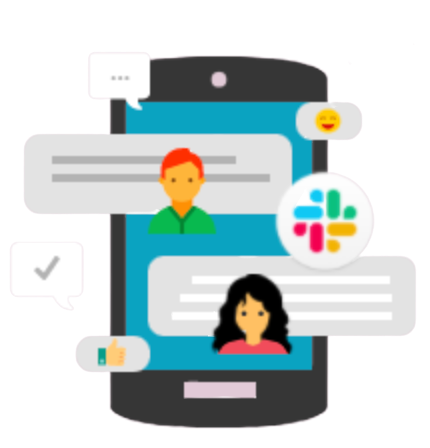 When should you use native advertising?
Native advertising supports your marketing strategy and lets you accomplish different goals.
You can set the following goals for your native advertising campaign:
Build brand awareness. Native advertising is one of the best methods to reach more people and show them your value proposition.
Attract leads. While performing well for top-funnel goals, native advertising is also effective for leading your prospects through the funnel. With a well-crafted native advertising campaign, you can get more app installs, capture customers' emails, get more demo requests, etc.
Drive sales. If you want your potential customers to see your high-converting landing pages, native advertising is the right way to go. To help you reach this goal, most native advertising platforms let you retarget website visitors or leads.
Retain customers. Native advertising is a great way to nurture your customers and build credibility. Keep promoting valuable and timely content, and you'll see your customers returning again and again.
What are the best native advertising platforms?
There are 1000+ platforms that let marketers distribute their content across different platforms. And the choice of the right native advertising platform depends on your goals, audiences, business type, and more.
To narrow down the number of options (you won't look into all the 1K native ad networks, will you?), we created the list of the 16 best native ad platforms:
What is the difference between native advertising and content marketing?
This question causes wide discussions on Quora and is highlighted by every self-respecting advertising blog. By the way, Joinative is no exception. We've created a detailed blog post describing the difference between content marketing and native advertising and illustrating how you could combine these methods.
In a nutshell, if you want to understand the connection between the two, turn to the definitions.
Content marketing is a marketing approach that helps you reach your target audience and gently lead them to customer action by producing and distributing content that meets their needs. Blog posts, video tutorials, webinars, newsletters – whatever type of content you produce, you're doing content marketing. You can also apply different content distribution methods to put your content in front of the right people.
Talking about content distribution, native advertising does a good job here. Being used to promote content to the relevant audiences, native advertising is rather a part of content marketing.
So, native advertising and content marketing can be neither opposed nor compared. But these two work better when combined, that's for sure. While native ads can help you get better results out of your content marketing efforts, native advertising is effective only when aligned with a proper content marketing strategy.
What are the native advertising best practices for 2020?
There's no one-size-fits-all method that works equally well for all the campaigns. But before you find your own best practices, these tips should help you build a strong basis:
Engaging ads are good, but relevant landing pages are just as important. How often did you click on the promising title to see the content that had nothing to do with your expectations? We know you didn't count. Try not to become one of these advertisers that mislead (and annoy) their audience.
Promote useful content to encourage people to take action. Do you want your campaign clickers to fill out the form? Show them the value first.
Monitor your results and check out which publishers deliver the best and the worst performance. Are there any websites that bring you lots of clicks and hardly ever result in conversions? Stop wasting your budget and exclude this website.
Don't jump to conclusions. What if your first campaigns fail? Use the data and experience to improve your performance in the future. Native advertising takes months and years to master. If you don't have enough time to follow the trial and error method, check out our Native Starter package. With Joinative, you'll learn how to launch and manage effective campaigns.
We're planning to publish an interview where native advertising experts share their best practices, so watch the updates!
How to create engaging native ads?
As has been said, you can check out Taboola's insights to create high-performing native ads. However, you shouldn't also dismiss general best practices, such as:
Use photos rather than illustrations. Photographs have almost 50% higher CTR.
Denote a benefit. What will happen to users if they click? Will they learn something? Then use the 'learn' or 'discover' keyword. Will they get a discount? Mention it in the title.
Stay credible. Try not to offer too provoking headlines but show your customers can trust you.
Test different creatives at once.
How to measure native advertising performance?
Measuring native advertising performance regularly is essential for staying up to date and being able to fix arising issues promptly.
First of all, your KPIs will vary based on the goals you set. There are three major campaign objectives advertisers want to reach, such as build brand awareness, increase engagements, and drive sales – and we've highlighted important metrics for each of them.
If you launch a native advertising campaign to build brand awareness, you need to track the following metrics:
Viewable impressions
Unique visitors
CTR
Behavior metrics, namely:

bounce rate
pages per session
average session duration

Video views
Video completion rates
For the campaigns aimed at increasing engagements and attracting leads, the following metrics will be crucial:
Conversions, namely:
Conversion rate
Lead-to-conversion rate
If you want to drive sales, your KPIs will be similar to the ones for the campaigns aimed at lead generation, but for one exception. Mind that viewable impressions and clicks matter even if they haven't resulted in immediate conversions. And this is where attribution modeling comes in.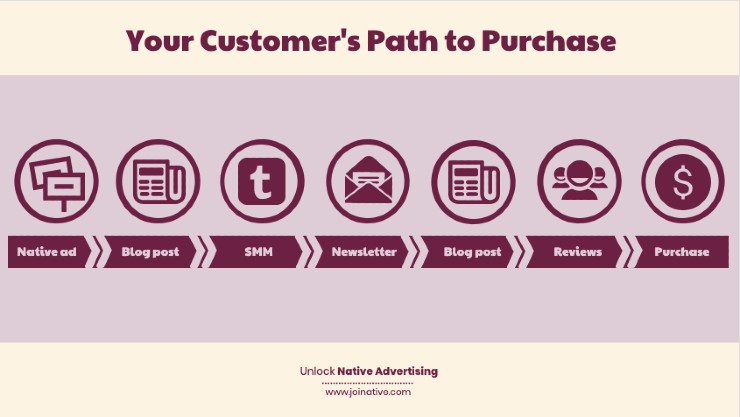 To be fair enough to every marketing effort you've taken before the conversion happens, you should track every touchpoint and define how much credit you want to assign to each of them. In our post on native advertising performance metrics, we've described the issue in more detail.
What we do
AdsJumbo.com is the new innovative verified ad network for Windows Store apps & games. We have developed a new way to monetize windows apps & games that provides an excellent user experience to keep your users happy.
Unlike other existing ad-solutions for Windows Apps on the market, our ad technology is based on 100% fill rate with top revenue, it's very similar to the existing Windows SDK. As a result, AdsJumbo.com provides best ad performance and multiple ad formats including banner, interstitial and video ads!