Mutual trust is important for us and for partnership!
Revcontent Campaign: Best Practices from The Expert - AdsJumbo Native Advertising, Monetize Apps, Websites
Revcontent is one of the fastest-growing native advertising platforms. Having one of the biggest publisher networks, it serves over 13 billion impressions per month. The vast majority of its traffic is coming from Tier 1 countries, such as the USA and UK – the result of Revcontent's high-quality standards for both advertisers and publishers.
Jon Mitchel, Manager of Sales and Brand Solutions at Revcontent told us about the platform:
Getting started with Revcontent is easier than ever with product improvements on the platform. From powerful targeting and optimization features to high-quality publisher traffic from direct, exclusive relationships, advertisers can qualify audiences at all stages of the marketing funnel with advanced targeting options, develop loyal customers and increase sales.

If you're familiar with buying on native, you'll love working with Revcontent for its self-serve platform, dedicated account management, and tools that allow you to reach the right audience at the right time.
He also shared a few tips for launching an effective campaign with Revcontent. Read on to learn what we've found out.
Why should you choose Revcontent?
Along with the traffic quality, Revcontent has lots of other benefits for advertisers. Jon gave us a few of them:
Premium Partnerships

We have exclusive, direct partnerships with some of the world's largest media brands like Microsoft, CBS, NASDAQ, History.com. Advertisers on the Revcontent platform like Verizon Media, HelloFresh, Forbes, Honey, Mack Weldon, Lending Tree, and IDG have exclusive access to this high-quality inventory.

Right Audience at the Right Time

Granular targeting options and real-time reporting puts content in front of the right user at the right time to increase traffic, drive sales, and meet any KPI.

White-Glove Account Management

As the only partner-first content recommendation network, we have a dedicated account management team to help at every stage of the campaign.
Granular targeting, quality traffic, real-time data – these are three major characteristics of this native ad platform. If you want to test a new traffic source and scale faster, Revcontent can be the right choice.
How to launch your first campaign
So, you want to set up your first Revcontent campaign. Where should you start? Well, from account creation… obviously. If you haven't already signed up, you can do that here. Revcontent has a simple and straightforward account creation process, and we'll just skip this step.
Once your account is active, you can go to the dashboard and click the 'Create A Campaign Boost' button.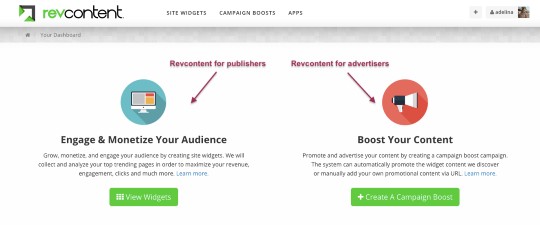 The campaign settings offered are similar to the ones you'll find on Taboola or other advertising platforms, except for a few details:
Your minimum daily budget should be no less than $100.
You can choose to optimize for engagements or for CPA ROI – the latter will enable you to set up a conversion pixel and track leads or conversions. Mind that Revcontent doesn't automatically optimize your campaigns. This option will only affect the way the system will track your campaigns.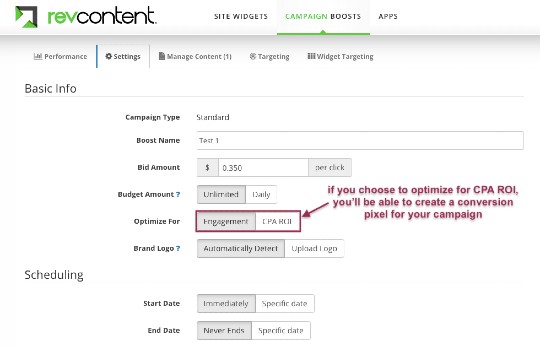 Jon Mitchell provided us with a checklist with the best practices for campaign creation:
Below is a must-have checklist for getting campaigns up and running on the Revcontent platform.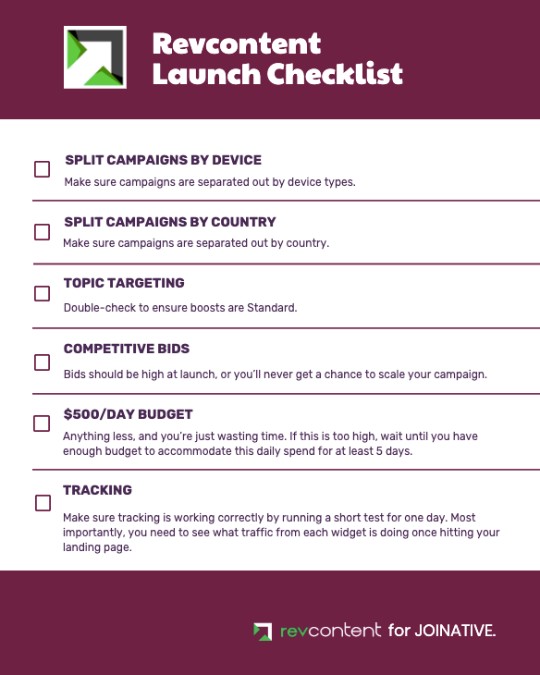 GET $100 ON REVCONTENT
Sign up and receive a $100 bonus on Revcontent ads. Access the offer in our Slack community.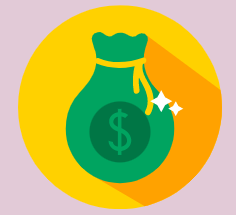 Revcontent targeting options
When you proceed to the targeting options, you'll see you can only target by Country, Region, Device, and Language. Does it mean Revcontent doesn't allow you to target by topics or select publishers' websites your ads should or should not be displayed on? Not really. Advanced targeting options will be available after you set up your campaign.
When you've configured basic targeting options and launched a campaign, you can modify your targeting options and bids in the Targeting tab or in the Settings section.

In the Targeting tab, you can exclude channels, adjust bids, or mass update multiple topic channels.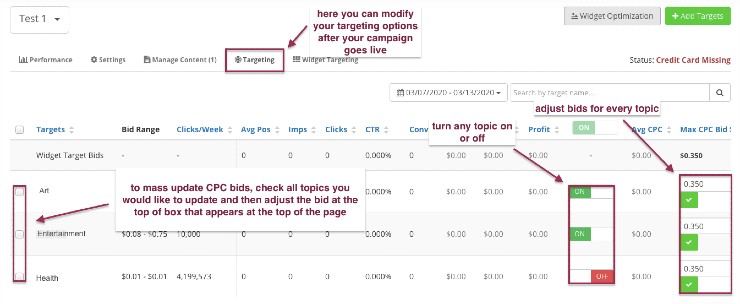 Revcontent has recently released Zip Code and DMA targeting, giving their users access to one more level of granular targeting.
Blacklist placements
If you notice specific placements perform worse than others, you can blacklist them. Go to the Widget Optimization tab, and enter the Widget ID(s). You can blacklist them either at the campaign or account level.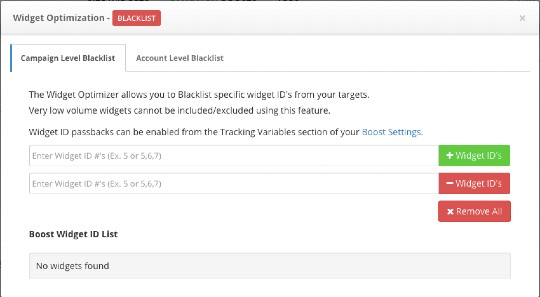 Ad creation
Targeting the right audience is important, but you aren't going to reach your campaign goals without making those people click on your ad. So, last but not least, ad creation.
"It's common across the Revcontent network for advertisers to assume performance is only based upon bid and widget optimization. While this holds true for a significant amount of volume, there's no better way to increase volume without hurting your bottom line than to optimize your images and headlines for the highest possible CTR (amount of clicks)," says Mitchell.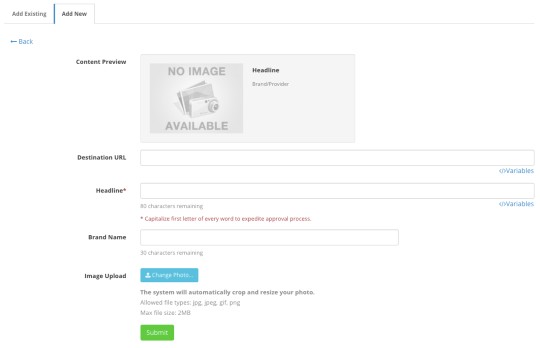 Again, the whole process seems to be pretty simple, except for the fact you'll need to make your ad meet all the Revcontent's policies, which isn't always easy. Before you submit your campaign content, we recommend that you check the reasons a reviewer may decide to decline your ad. Mind that it might take from 5-7 business days for the Revcontent team to review and approve your ad content.
Images
The Revcontent team also shared a few things you should consider when selecting images for your future campaign:
Common sense would dictate sourcing imagery that directly relates to your product or service. While this is a great start, it is not enough to bring your creatives into a 0.4% or higher CTR, which is considered above average performance on Revcontent. Below you'll find a few variables that could help you improve your ad performance.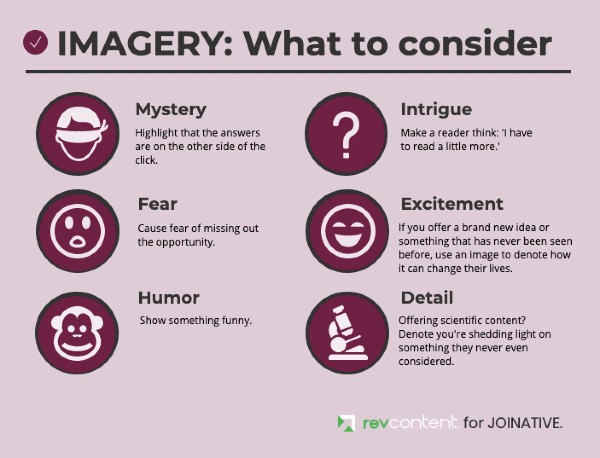 Headlines
In most cases, your ad copy consists of an image and a headline that introduces the topic covered on your landing page. As we've already listed the best practices for imagery, we'll move on to headlines. Let's check the recommendations Jon provided us with:
Headlines do at least half of the work of your chosen imagery so when you align it with your image, you should have no problem meeting your CTR benchmark (noted above at 0.4%). Below is the same list as imagery, but repurposed for headlines. Incorporating as many of these as possible will help you improve your performance.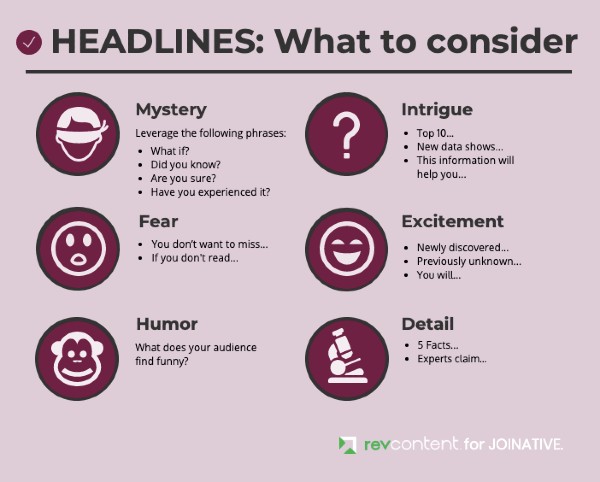 Coming up with engaging ads takes creative effort, but once you identify the messaging that appeals to your target audience, you'll be able to apply it successfully to other ads and campaigns.
Revisit your campaigns and rotate your creatives once a week to optimize for better results.
Summing up
What we like most about Revcontent is that it doesn't allow you to jump into conclusions but offers to test the network slowly, optimizing for what's working for you. When your campaign goes live, their distribution logic limits you to <10% of a widget's volume until you manually adjust your bids indicating you want more volume from that source. After this step, you'll scale up in a few days.
What we do
AdsJumbo.com is the new innovative verified ad network for Windows Store apps & games. We have developed a new way to monetize windows apps & games that provides an excellent user experience to keep your users happy.
Unlike other existing ad-solutions for Windows Apps on the market, our ad technology is based on 100% fill rate with top revenue, it's very similar to the existing Windows SDK. As a result, AdsJumbo.com provides best ad performance and multiple ad formats including banner, interstitial and video ads!