Mutual trust is important for us and for partnership!
Taboola's Targeting Options: How Do You Choose One? - AdsJumbo Native Advertising, Monetize Apps, Websites
The success of your native advertising campaign depends on the targeting options you select. Whatever goals you set, you should focus on reaching the right audience with the right content first.
Being a leading native advertising platform, Taboola offers multiple targeting options to advertisers. You can choose specific locations, select audiences that are most likely to interact with your brand, or combine audience types – just in a few clicks.
With so many targeting options available, the only question left is which ones will work for you. In this post, you'll learn the differences between different targeting options and find the questions that will help you define which option is right for you.
Taboola's targeting options: Overview
With the Taboola platform, you have full control over your campaigns – you manage ads, set up targeting, and select bidding options yourself. Due to a number of targeting options available on Taboola and the opportunity to combine them, you can create customized campaigns and reach the most relevant audiences. Let's take a look at Taboola's major targeting options.
Campaign targeting options
Like any other advertising platform, Taboola allows you to set up the basic targeting configurations, such as location, device type, operating system, etc.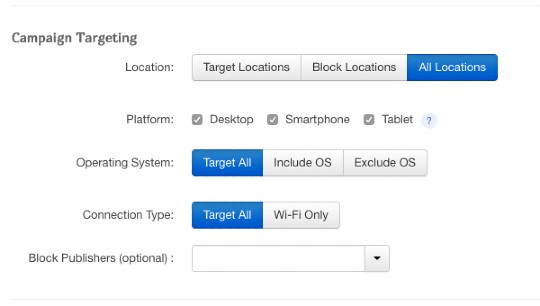 Location
With location targeting, you can block or target specific countries, regions, cities, and postal codes.
If you run a local business, you might want to narrow targeting to the areas near your physical stores. As you'll be targeting a smaller group of people, you'll also need to increase your CPC bids to get more traffic.
But even if your business isn't location-bound, you'd better target different countries with different campaigns. Splitting your campaigns, you'll be able to tailor your content for different audiences and analyze how your ads perform in different locations.
Willing to reach English-speaking audiences? Target the USA, Сanada, UK, and Australia separately. This will allow you to understand what location performs better for you and adjust your budget for future campaigns.
Platform
Did you know that native ads displayed on mobile devices deliver 2x higher CTR than the ones on desktop?
Therefore, we recommend that you split your campaigns based on the device type and adjust your bidding strategy for every campaign.
Operating system
It sounds obvious, but still… If you promote a mobile app that's available on App Store only, there's no sense in showing your ad to Android users.
Moreover, the iOS traffic is more expensive and has slightly lower conversion rates generally. However, higher lead quality and conversion value make up for such issues.
Split iOS and Android campaigns to optimize towards different conversion values. If you target both systems in one campaign, Taboola is more likely to favor Android (for cheaper leads) and ignore that iOS leads have higher chances of converting into sales.
Connection type
This targeting option doesn't seem to have much impact on your campaign success in most cases, but it's worth considering when you target countries with a slow mobile data connection.
Does your native ad contain a video that needs a stable connection to get downloaded? Then target users who use a wi-fi connection to ensure smooth user experience.
Also, if there's more time needed for a visitor to go through a conversion funnel after clicking on your native ad, you may want to limit your reach of people that are on the go. Choosing the 'Wi-fi Only' connection type, you target audiences that are more likely to be at home or in the office.
Taboola audience targeting
After you've specified campaign targeting options, it's time to move on to audience targeting.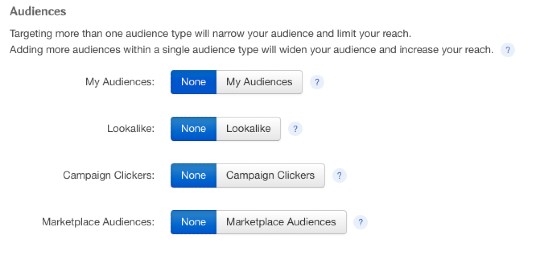 Taboola allows you to combine different audience targeting options to reach the most relevant audiences. However, this step can also limit your reach. For instance, if you choose to target both marketplace audiences and lookalike audiences, a user will need to be a part of both audiences to be targeted.
To make the best out of this feature, use it to include one audience type and exclude another. Thus, promoting a product for women, you can target your website audience and exclude the male audience in one campaign.
If you want to target different types of audiences, do it in separate campaigns and customize your creatives for each audience type. Compare how your audience-customized ads perform against generic campaigns.
Want to get the most out of Taboola campaign reporting?
Access advanced reporting features and customize Taboola performance data with Native Pro.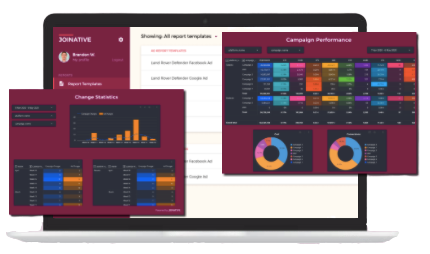 My Audiences
Here you can create specific groups of users who are interacting with your website and retarget them.
To create your audiences, you'll need the Taboola Pixel. When installed, it will let you not only track conversions but also understand the actions visitors take on your site to optimize your marketing campaigns accordingly. Once you set up the Taboola Pixel, an audience that represents all your website visitors and audiences that are based on the conversion rules you defined will be created automatically. If you want to create custom audiences, you'll need to do it manually.
Here's when growing My Audiences is a good idea:
When you want to target your website audience.
When you promote a specific product that is just one of the multiple options on your website. In this case, you can choose to target people who have visited certain web pages (URL-based audiences).
When you promote the bottom-of-funnel content and want to reach people who have already taken some action on your website but haven't converted yet (so that they're most likely to be ready to purchase or repeat an action).
Lookalike Audiences
This option is available only when you target the United States.
To expand your reach and keep it relevant, Taboola allows you to target users that are similar to your existing customers. Analyzing your existing audiences and finding the commonalities between them, the platform identifies highly-qualified users who resemble your target audience.
The Lookalike Audiences option gives you an opportunity to target beyond interest and behavior. Built based on the characteristics of your current customers, lookalike audiences include people who are most interested in your offer. Selecting this option, you can find more audiences with higher conversion rates.
Keep in mind: Taboola doesn't understand the audiences like Facebook does. Although this option is worth trying, it might fail to be as effective as you expect.
To create lookalike audiences, you'll need to go to the Audiences section, click on '+ New Audience > From Customer File,' upload your email list, mobile device IDs, or 5 digit US ZIP codes, name your audience, and click 'OK.'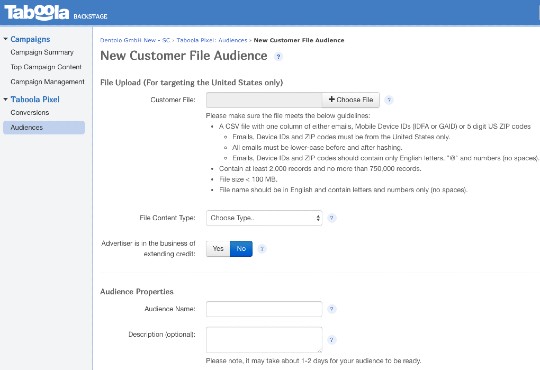 Mind that it's only possible to create lookalike audiences when Taboola has enough data about your customers. If this condition is met, it'll take 1-2 days for Taboola to process the data.
Campaign Clickers
Willing to retarget users who have clicked your campaign items? This feature is for you.
Good news: This targeting option doesn't require any setup or tag implementation (but you need to have at least one campaign to get the data from).
Retargeting campaign clickers, you'll focus on users who are most likely to complete an action. Such campaigns often see a higher return on investment and require less time for a user to complete a conversion after seeing an ad.
Marketplace Audiences
Last but not least.
Marketplace Audiences is the targeting option that enables you to target users based on their interests, demographics, and intent. This feature can help you narrow down your reach while still targeting a wide enough audience.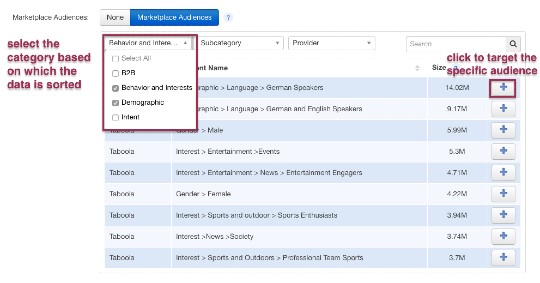 You can either go with the audiences built with Taboola's data or go with partners' inventory. Taboola works with the best data marketplaces to offer their users specific insights for different industries and audience types.
Mind: If you go with third-party audiences, the added cost will be included in the CPC.
Marketplace audiences can be especially useful if you don't want to advertise to a broad audience but to a specific niche (e.g. B2B or niche product).
PRO TIP: For all the campaigns with limited reach, start with higher CPC bids to achieve better performance.
How to select the right targeting options?
We've highlighted all the targeting options you'll need to choose from when launching the Taboola campaign. But which combination is right for you? To find the answer, try to answer the following questions.
Were you doing native advertising before?
Well, if you haven't been running any native advertising campaign, you can exclude the options that require leveraging the data from your previous campaigns, straight away.
Then we recommend that you split your campaigns by device and country and test several audience targeting options. Eventually, you'll be able to evaluate the result from every campaign and combine the most effective targeting options.
Do you know your audience?
Regardless of whether you have any experience in doing native advertising or not, you can leverage the data from the rest of your marketing campaigns. How do different types of content perform for different audiences? What are user behavior metrics for mobile and desktop users? Do you have enough website audience to target them in your campaigns?
Leverage these insights both when creating campaign content and configuring targeting options.
What's your goal?
Do you want to build brand awareness? Maybe you're aimed at generating leads or building loyalty? Your targeting options will mostly depend on your goals.
Brand awareness campaigns are focused on letting people know your brand exists and showing the range of problems it solves. If you're only building brand awareness, you'd better target broad demographics. Moreover, as you want to reach new customers, you'd better exclude campaign clickers or your website visitors.
If you do native advertising to drive conversions, make sure to split your campaigns between the audiences that have taken some action on your website and prospective customers that hasn't interacted with your brand yet. In this case, retargeting your website visitors and campaign clickers will work best. If your website audience size isn't significant enough, think of leveraging Marketplace Audiences instead (or revisiting your goals).
To wrap up
Taboola offers a variety of targeting options. Along with configuring campaign and audience targeting, you can also exclude or include specific publishers you want to target. However, this topic can be a subject of a separate article. Stay tuned!
How do you know which audience targeting tactics work best for you? The only way to learn it is to test. Start with launching a few Taboola campaigns with different targeting configurations and monitor their performance. The results will show you what works and what should be adjusted.
What we do
AdsJumbo.com is the new innovative verified ad network for Windows Store apps & games. We have developed a new way to monetize windows apps & games that provides an excellent user experience to keep your users happy.
Unlike other existing ad-solutions for Windows Apps on the market, our ad technology is based on 100% fill rate with top revenue, it's very similar to the existing Windows SDK. As a result, AdsJumbo.com provides best ad performance and multiple ad formats including banner, interstitial and video ads!